Waist trainers are highly effective at shaping your waist. But, they require you to wear one for several hours a day for effective waist training.
They are great to wear if you are just lounging around the home or sitting at an office desk, but not the most comfortable to wear when you are doing stuff that's more physically intense. This is where waist trimming belts can help.
Waist Training Vs Waist Trimming: Is There Any Difference?
If you'd like to retain the benefits of a waist trainer while working out at the gym or going for a run, a waist trimmer belt is your best bet. So, how is it different from a waist trainer and which one should you buy?
Essentially, waist-trimming is more for short-term wearing during physically intense activities like home or gym workouts. These waist cinchers are worn around your midsection to encourage your body to maintain proper posture and form during exercises.
Waist training, on the other hand, is a more long-term strategy. Waist trainers are designed to be worn for hours while resting. Effectively, waist-trimming is a part of waist training itself, because it helps to retain the benefits of a waist trainer while also allowing you more room for movement.
Who Is Waist Trimming and Waist Training For?
Both waist trimming and waist training suit men and women of all shapes and sizes. There is a very wide range of sizes of slimming belts to choose from to suit your waistline. You can buy both and use them both in different situations.
Waist trimming is especially recommended for fitness enthusiasts and gym rats! Not only do the waist trimmer belts keep your core stable and supported, they act as sauna belts also. The neoprene in the waist trimmer belt insulates the abdominal area, raising your body heat and causing you to sweat more. Calories are burnt more easily and belly fat is sweated off!
They are especially great for those that like doing squats, deadlifts, and cardio Cexercises. They encourage you to keep proper form and posture during these difficult moves.
What Are Waist Trimmer Belts?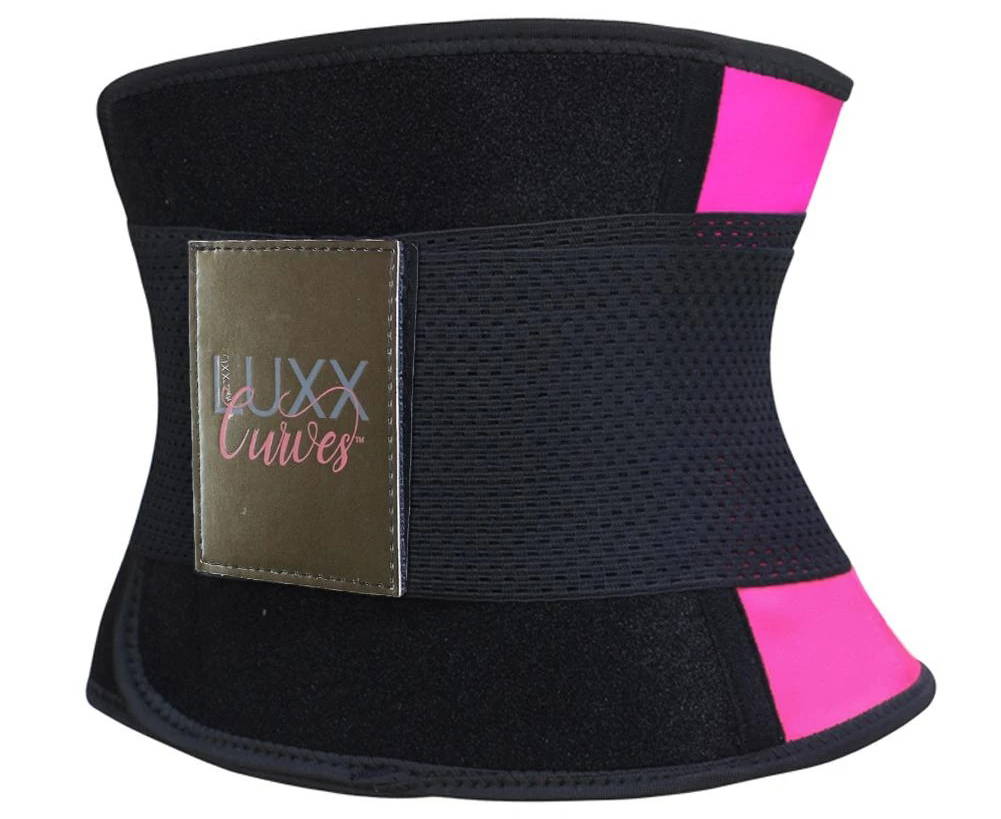 Waist trimmer belts are slimming fitness accessories (usually made from materials like nylon or neoprene) that can be worn around the midsection to reduce fat. They are typically not as rigid, and are stretchier than waist trainers, with elasticity built into the materials of the belt.
They allow a greater range of movement and breathability than a waist trainer. This makes them ideal to wear during workouts or physically intense activities and they become an important piece of your active gear.
Typically, they are lighter in structure from the neoprene material and don't have the rigid bone structure of waist trainers. They also don't have rows of hooks, but instead, have velcro clasps that are easy to 'snap' on when you are outside or at the gym.
What Makes a Good Waist Trimmer Belt?
Waist trainers are worn while you sweat and move a lot, so look for stretchy but breathable fabrics. Usually, high-quality nylon and neoprene are common materials. While stretchy, they should also be rigid enough to encourage good posture. Velcro straps make it easy to take on and off your waist trimmer belt. Also for those with allergies to latex, waist trimmers are latex-free.
Just like with waist trainers, getting the right size is important. Although we all want the hourglass figure, if it's too small, it can dig into your body and cause discomfort. Luckily there is a large variety of sizes to ensure the waist trimmer belt size fits you and your particular body shape. Luxx waist trimmer belts, for example, come in 8 sizes—going from 22 to 45 inches in waist measurement.
The design should be such that the waist trimmer belt allows you to move and breathe freely, but still rigid enough to keep your core 'in place'. Some designs have Flexi bones to encourage good posture. Overall it's designed as a body shaper for your torso, with the same function as a corset, cinching in your waist. However, unlike a corset, elasticity and comfort are built into waist trimmer belts.
Last but not least, the waist trimmer belt is not your typical cincher belt. It should be easy to put on, like shapewear and always feeling comfortable. They are meant to be used in gyms and settings where time is a constraint. So, if you are taking ages to put it on, it defeats the purpose of a waist trimmer belt! Look for things like Velcro or clasps that let you put on the belt in one go.
Benefits of Wearing a Waist Trimmer Belt
There are many benefits of owning a waist trimmer belt, especially if you lead an active lifestyle.
Firstly, as we discussed before, it encourages good posture and lumbar support. The belt sits against your waist, gives a tummy tuck, and places a light restraint around your entire abdominal area.
This encourages your lower back to be neutral and your core to be nice and taut. It's hard to hunch your back or for your belly to bulge out when there's something to physically stop it. This is incredibly helpful when you are doing squats and weightlifting, where you need a taut core and neutral spine. So the back support from the constraint of the belt is great for those who suffer from back pain.
The stretchy and breathable material helps keep your form while allowing you to move and breathe freely during intense cardio workouts. They are also easy to carry around and don't need much effort to put on, unlike a waist trainer.
The waist trimmer belt is a great aid for slimming down and fat loss. Because the waist trainer heats the area around your waist, you are going to be sweating more around that area, and ultimately this causes fat loss. You should see yourself losing inches around your belly when used consistently. So yes when used correctly, the waist trimmer has been shown to reduce belly fat.
If you are feeling ill or having an 'off' day where you don't want to wear a full-on waist trainer, a waist trimmer belt can help. This will help you temporarily retain the waist training benefits so that you are somewhat consistent with it, while you get better.
How Long Until You Start to See Results With a Waist Trimmer?
It's important to note that you can't solely rely on a waist trimmer to give you results. It's a tool that is supposed to complement your other waist-cinching practices such as waist training, eating healthily, and exercising regularly.
So, how long it takes to see results really depends on how well you do these other practices. Let's just say that a waist trimmer belt used together with a waist trainer would give you better results than just a waist trainer on its own, but you can't use the waist trimmer belt on its own. It is a great tool for slimming down but only when used in conjunction with a healthy regimen.
As with any shaping tool, there are ways to use waist trimmer belts that can either make or break your waist training journey. Here are some important safety tips to keep in mind, to make sure that you are using waist trimmer belts correctly.
While you are working out with a waist trimmer belt, you will be sweating profusely—which means you are losing lots of water and important salts.
It is quite easy to become dehydrated this way. So, it is very important to keep yourself hydrated while you workout. Drink plenty of water (ideally with electrolytes as well) while you work out. Drink water in small amounts frequently, as drinking too much water all in one go can make your waist trimmer belt feel uncomfortable.
Waist trimmer belts and waist trainers are not designed to be worn 24/7. You are only meant to wear them for a couple of hours (8 hours max) in a single day.
And you most definitely should not be sleeping in a waist trimmer belt or waist trainer. Overdoing it could damage your body and cause breathing issues, so make sure you follow the manufacturer's instructions on wearing them.
Tip #3 - Eat Small But Frequent Portions
No amount of waist training will help your waistline if you don't complement it with a healthy diet. When you wear a waist trainer, eating massive portions at a time can cause pain and discomfort.
So, break up your meals and eat lighter foods. Ditch the sugary, greasy, or salty fast food that causes bloating, and not only will you have a smaller waist, but also should see weight loss results.
Tip #4 - Don't Overtighten
When you are impatient to get that beach bod, it can be tempting to tighten the waist trainer too much in the hopes that it will give faster results. But, this is very dangerous as it could damage your internal organs in the abdominal area and cause breathing issues.
Besides, waist training is a gradual process that requires time for your body to adjust to. Make sure you choose a size that you are comfortable in and that it is not suffocating you. Think of it like your other active gear which feels, with room to move, when you're choosing a belt size.
While wearing a waist trainer or waist trimming belt, you should be able to speak and breathe freely while you carry on with your daily tasks. If you feel shortness of breath or sharp abdominal pain, you should stop immediately and check if the sizing was correct.
Summary - Waist Trimmer Belts Made Easy
In summary, waist trimmer belts are tools to complement your waist training journey. They are not 'quick fixes' that can be used in the short term. They give the best results when used in conjunction with waist trainers.
They are best used during workouts or physically intense activities, where you want a little more flexibility than a waist trainer but you still want that core stabilizing effect during physically intense activities.
When choosing a waist trimmer belt, pick ones with somewhat stretchy but breathable fabrics. Also, look for features like Velcro or clasps that you can easily snap on quickly.