Waist training isn't about achieving a certain size waist. It's about enhancing the shape of the body you already have.
This means that waist training supports women of various body sizes. Whether you're plus-size or petite, anyone can benefit from a smoother silhouette.
What Sizes Are Considered "Plus-Size?"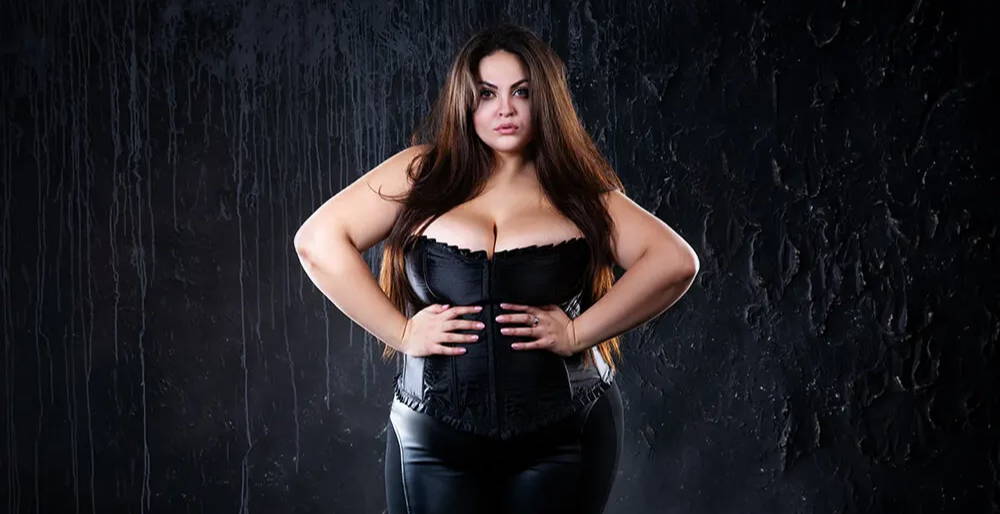 Clothing sizes for women can vary wildly from brand to brand, and individual designers have their own standards of what they consider petite or plus-size. Some people have found that the waistband of a size 6 pair of jeans can vary as much as 6 inches between brands.
Size standards have changed so much over the years as well. For example, today's size 6 used to be a size 12 in the 50s.
Another issue is that while two women may be the same size, they may have different proportions and body shapes. This makes clothing sizes even trickier to determine.
However, on average, most clothing brands consider size 18 and up plus-size. These are also referred to as 1X to 6X sizes. 7X and up is considered extended size. It's been estimated that almost two-thirds of American women wear size 14 and above.
Why Luxx Curves Does Not Sell Corsets
Historically, corsets were the most common way of 'waist training'. However, it wasn't long before women began experiencing terrible side-effects from wearing waist trainer corsets.
They had damaged internal organs, breathing problems, cramps, etc. The culprit? The rigid steel bones used in traditional corsets or even waist cinchers that forced your body into a certain shape.
This is why Luxx does not sell corsets (whether you're talking about underbust corsets or overbust corsets). We sell waist trainers that have flexible steel bones, which allow a higher range of movement. They also don't squish your organs to create an hourglass figure.
Why Has Plus-Size Fashion Taken So Long To Evolve?
Plus-size fashion seemed to be more of an issue post-90s than in earlier decades. Stars like Marilyn Monroe would have been labeled plus-size in the size zero-obsessed era of the early 2000s.
This is because in the 90s, the fashion industry began to use really skinny models. This wasn't necessarily done with malice, but simply because petite models fit the standard sample sizes designers often made. However, the result was that plus-size women were overlooked entirely by the fashion industry.
It wasn't until recently that the advent of social media has given plus-size women a real voice. Social media has provided the ideal platform for brands to notice how out of touch they were regarding their consumers' needs.
This is especially the case considering that over 60% of American women wear size 14 and above. Despite this, a lot of clothing brands still don't carry these sizes.
Will A Waist Trainer Still Work For Plus-Size Women?
The goal of a waist trainer is to smoothen out your curves. Whether you're plus-size or petite has nothing to do with how smooth your silhouette is. Even skinny girls can have a boxier shape that they would like to change.
Sometimes, waist trainers can work even better for plus-size women because they already have curvy bodies with a larger bust and hips. So, using a waist trainer will exaggerate your shape even more!
How To Use Your Waist Trainer Safely As a Plus-Size Lady
There are a lot of misconceptions about the risks of waist training because some people didn't know how to use them safely. Here are some safe ways to use a waist trainer:
Never Wear A Waist Trainer To Bed
Always wear a waist trainer when you're fully awake and aware of your movements and breathing. Wearing a waist trainer to bed can mess with your breathing, especially if the waist trainer gets caught in something.
Don't Wear A Waist Trainer (Or Corset) For More Than 8 Hours Per Day
Luxx recommends that you wear a waist trainer for 4-8 hours each day only. If you feel uncomfortable when you first start, start with just 2-3 hours a day. Then, gradually progress to 4-8 hours, and go no further than 8.
Listen To Your Body - If It Hurts, Stop!
It's super important that you listen to your body. If you feel sharp or persistent pain, stop waist training immediately and consult a medical professional. If you're struggling to breathe or feel cramps, again, stop waist training!
Dress For Success: Plus-Size Styling That Complements Your Body Shape
One huge step to looking good is knowing your body shape and picking the right styles and fabrics to go with it. Even if two women are the same size, they may have different proportions and hence different body shapes. This means they won't look good in the same clothes, even though they're the same size.
A straight body shape is where your shoulders, core, and hips are almost the same width, so that your silhouette forms a straight rectangle. Your goal is to give the illusion of a smaller waist, so use things like belts around your waist.
Another way to do this is to add volume to your shoulders and hips to make your waist look smaller in comparison. Try tops like peplum tops and fit and flare dresses to add volume at the top and bottom.
Hourglass body shapes have a smaller waist, but the shoulders and hips are roughly the same widths. Here, you want to accentuate your naturally smaller waist by going for styles like bodycon dresses, fit and flare dresses, and peplum tops.
Mermaid-style or trumpet-style dresses also look amazing for hourglasses. Avoid anything that has bulk at the waist.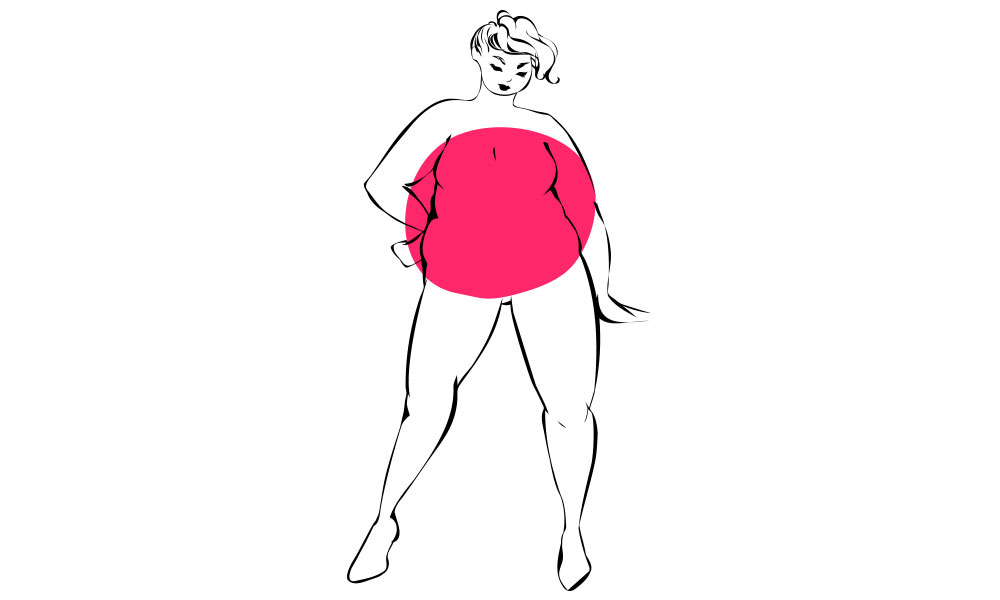 Here, your torso and bust are significantly larger than your arms and legs. Go for form-fitting tops and V-necklines to show off your bust, and avoid loose-fitting ones that hide your shape.
You also want to find styles that define the waist as much as possible, because the apple's larger bust can make your body look boxy if it's not styled properly. Avoid anything with bulky fabric at the waist, and opt for soft fabrics.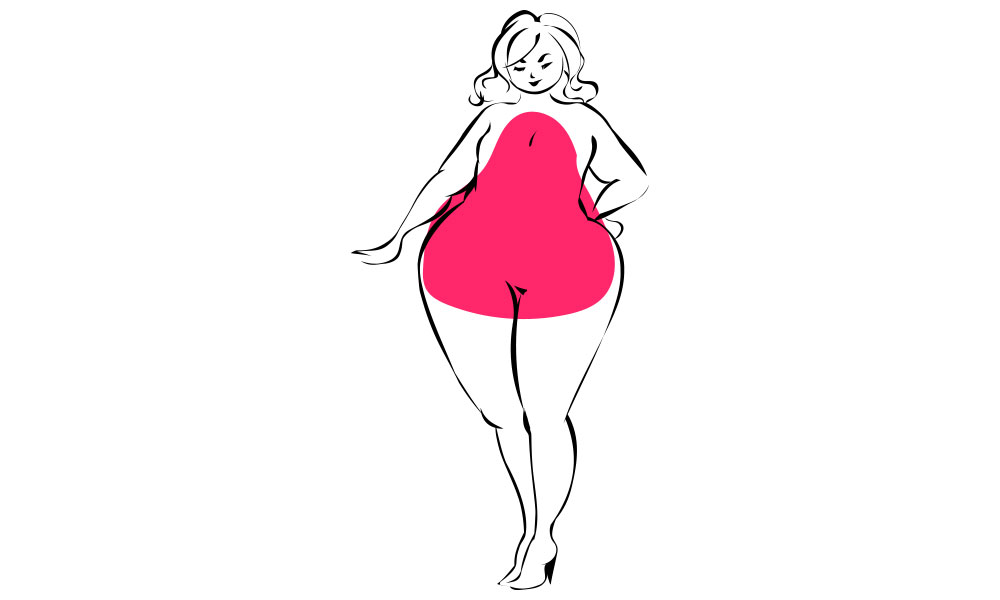 A pear has relatively small shoulders and bust compared to the hips. Like with an hourglass, you want to accentuate the waist as much as possible.
However, you also want to add emphasis to your upper body, so look for anything that has volume at the shoulders—ruffles or sequins, for example—to balance out your hips.
Form-fitting dresses also suit pear bodies. Pencil skirts look great on pears, as these elongate the body.
Body Type #5: Full Bust/Inverted Triangle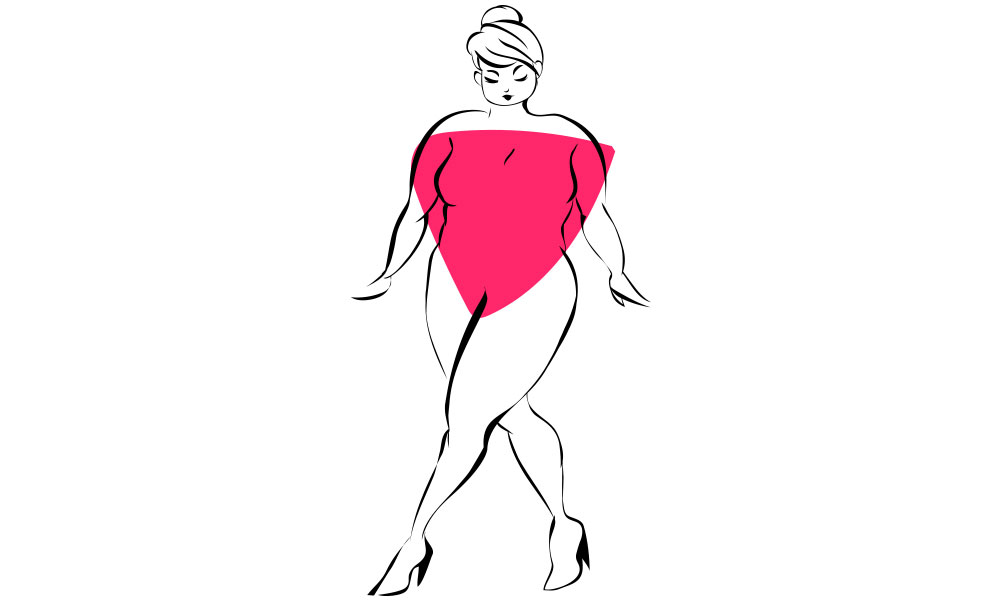 Inverted triangles have broader shoulders and a larger bust with narrower hips. Here, you want to emphasize your hips as much as possible and take attention away from your upper body.
Avoid anything with volume at the shoulders—ruffles, sequins, etc. Instead, go for fit and flare dresses, trumpet skirts, and peplum tops.
Are The Results Permanent?
The results of waist training are generally semi-permanent. Remember that the purpose of a waist trainer is to give you a smoother silhouette. It can only do so much to give you a smaller waist—especially if it's not paired with a good diet and workout regimen for weight loss. To make the most of waist training, try also using Luxx waist trimmer belts during your workouts.
What Are The Best Waist Training Exercise Routines For Plus-Size Women?
You want to focus on low impact cardio and resistance training. Avoid things like HIIT and opt for steady-state aerobic cardio—running, walking, jogging, etc.
Avoid anything that adds too much bulk to your obliques (side ab muscles), as this will give you a boxier shape. So, avoid things like side crunches (especially weighted ones), and opt for things like planks and leg raises instead.
How To Measure Yourself For The Perfect Fit
To find your ideal Luxx waist trainer, there are two primary measurements you need—waist circumference and torso length. For the waist circumference, wrap your tape measure around the smallest part of your waist. Ensure that it's snug but doesn't dig into your skin.
For the torso length, measure the vertical distance from right under your bra and all the way down to your hip bone. Use these numbers and our Luxx size chart to find your true match.
Testimonial From A Beautiful Plus-Size, Satisfied Customer!
Here is one of our plus-size customers talking about her waist training journey and finding the right waist trainer. She currently wears her own mermaid-style waist trainer around 8 hours a day (which is our maximum recommended amount). She sent in her measurements to the Luxx team to find her perfect fit.
Summary: Instead of Plus Size Corsets, Try This!
To sum things up, waist training can work really well on plus-size women because they already have a larger bust and hips. So, all they need is a bit of accentuation at the waist.
Complement your waist training with clothing styles that suit your particular body shape so that you can look your best. To make the most of your waist training and achieve long-term results, complement it with a good diet and exercise plan. We even sell shapewear!