Navigating petite or xxs sizing can be tricky, especially with shapewear. Oftentimes, shapewear manufacturers don't cater to petite women because they assume you are already skinny and don't need shapewear. However, you can still have a slim waist and still want a better shape by using a waist trainer body shaper.
What is an XXS Waist Trainer?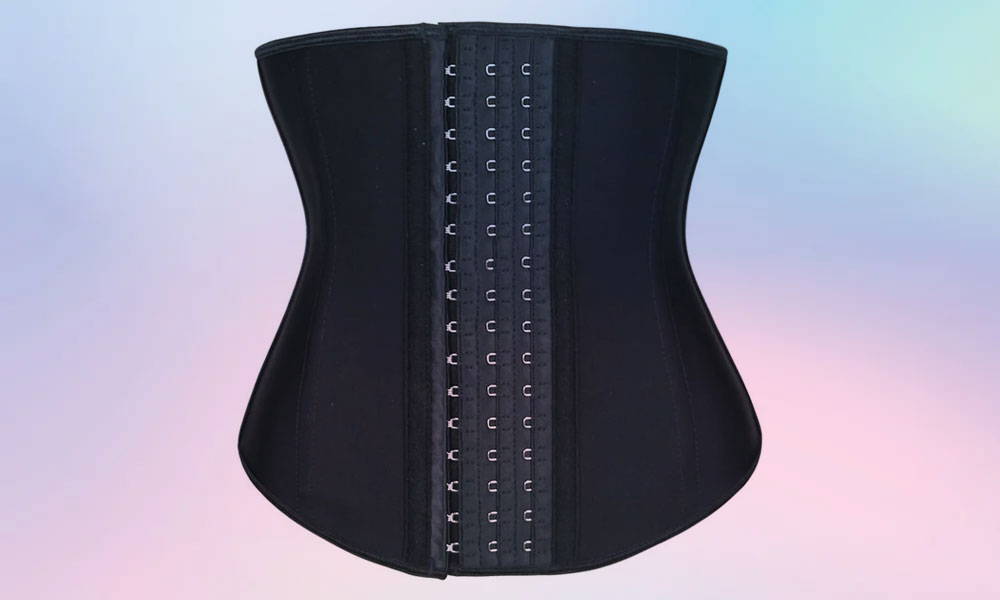 An XXS waist trainer is one that caters to women who have a waist circumference 25 inches and under. Though to be exact, you should refer to the sizing guide of the brand, as different brands have different sizing requirements.
Why would a petite woman with a slim 25 inch waist need a waist trainer anyway? When it comes to latex waist trainers, waist cinchers, and fajas, people often confuse shape and size.
Waist trainers have two purposes: to slim and shape the waistline. You can have a slim waist with a flat tummy and still want to achieve a curvier, bustier accentuated waistline. Also, petite women can still have high body fat, especially around the waist.
What Makes a Good XXS Waist Trainer?
A good women's waist trainer in general should be able to cinch your waist while being comfortable enough to wear for long periods of time. You should be able to carry out your normal daily activities. There are some other things to look for when buying a XXS waist trainer or body shaper.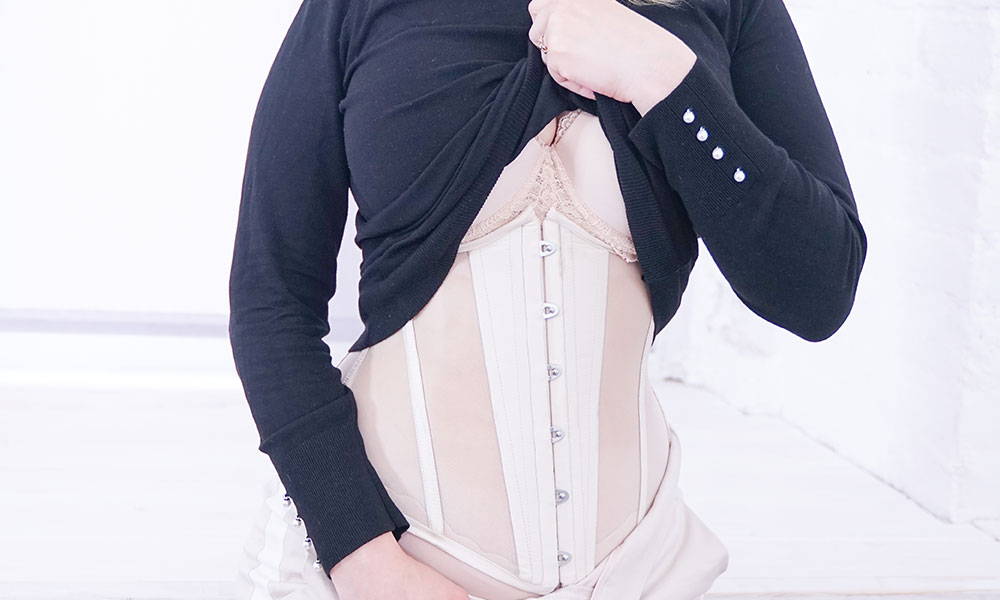 Considering the fact that you would be wearing a women's waist trainer for several hours a day, you need to pay extra attention to the material and design. The shapewear material should have the following qualities:
Lightweight and breathable

Moisture wicking—shouldn't collect sweat or water

Soft and smooth—doesn't dig into your skin

Durable and strong

Flexible and stretchy

Check for any allergies

Provide slimming effect
With respect to the design, a waist trainer corset, waist trainer, and trainer cincher are mostly made with a rigid metal framework that is covered by fabric. This framework gives the waist trainer enough strength to withstand the pressure from your body fat. Sauna sweat belts from Amazon work well. A Colombian brand called Ann Chery is also good. But above all, we find Luxx Curves Waist Trainer is an excellent product made in the United State.
However, it should also be flexible enough to let your rib cage expand properly during breathing. Otherwise, you may not get enough oxygen and dispel all the carbon dioxide properly with each breath. Both of these can cause more health issues later on.
A lot of the time, these metal frameworks are made from steel. But, steel can be quite dangerous, as it is too rigid. So, brands like Luxx Curves, use special flexi-steel or 25 steel bones instead. These conform to your body instead of constricting it.
Ensuring you have the correct size of shapewear is crucial. If the size is too large and the waist trainer isn't tight enough, the waist training won't be that effective. So, you would be wasting your time wearing it. This video highlights the importance of getting the size right.
If the sizing is too small, it can be dangerous. You may end up over tightening it, which can cause breathing problems and cut off blood circulation. There could also be digestive issues like acid reflux. Over prolonged periods of time, this could potentially damage your internal organs as well.
Hence, make sure your measurements—especially the waist size is correct. For more accuracy, take several measurements while you are in different positions (seated, standing, bent, etc) and take an average of those. A lot of brands also have a customer service team that can help you choose the correct size as well.
Another crucial measurement for waist trainers is the torso length. Your torso should be longer than the waist trainer's height. Take several measurements while your body is in different positions (seated, standing, crouched, etc.) and take the smallest measurements. The waist trainer has to be shorter than this.
Luxx Curves waist trainers, there are different waist trainer torso lengths to choose from—from short torso to long torso. Luxx Curves's short torso traditional waist trainer is built for women with a torso length shorter than 9 inches. Great product to be on your wishlist.
XXS Waist Trainers and
Other Size Waist Trainers - What Is The Difference? Should You Size Down?
XXS Waist Trainers, also known as 2 XS Waist Trainers, are simply one of the smallest size selections with waist trainers. XXS typically refers to people who have a waist measurement of 25-26 inches or below. Not all manufacturers cater to this size category, because people assume there's less need for waist training for petite people. Measurement sizes range from xxs-6xl.
Luxx Curves caters to a very wide range of sizes, and doesn't just stop at XXS or 2 XS! There's even a XXXS or 3XS. The smallest waist trainer caters to waist measurements between 22 and 24 inches.
While it is tempting to go as small as possible when you are waist training, this is not recommended. The tightness will just cause breathing and digestive issues.
So, how do you know it's the right size? It should be tight enough to prevent your gut from bulging out, but you should be able to do normal activities while wearing the waist trainer (e.g. talking, walking, etc.)
What Are The Benefits Of Waist Training For XXS Sizes?
Waist training has numerous benefits for petite sizes. While you may not necessarily need to slim your waist, you can still achieve a better shape with a waist trainer. Here are some other benefits:
By physically holding in your belly fat and gut, waist trainers encourage your body to keep a neutral spine. An improved posture has been shown to improve blood circulation and breathing.
Waist trainers have firm control over weight loss in two ways—both directly and indirectly. They can physically slim and shape your belly fat through the pressure exerted by the waist trainer on your gut, and subsequent sweating.
It will also indirectly contribute to your weight loss by managing your appetite. You will be far less tempted to overeat when you are wearing something tight around your waist.
Have you done all those plank and crunch challenges to get a 'snatched' waist like JLO, but to no avail? While you can slim your waist through exercise or dieting, it won't necessarily help you shape your waist. The fat around your waist can't be shaped through core exercises. You can't spot treat fat with fat burning.
So, this is where waist trainers work their magic. Because fat tends to take the form of what it's contained in, a waist trainer or corset cincher is an excellent way to shape your waist. Latex rubber or corset latex can also help you in that regard.
By cinching in your waist, it can redistribute fat over long periods of waist training, so that you will have a curvier waist with a more defined waist to hip ratio.
What To Keep in Mind When Wearing a Waist Trainer As An XXS Size
There are a couple of things you need to keep in mind when wearing a XXS waist trainer.
2. Only wear them for the recommended hours
While you may be tempted to think that wearing waist trainers for longer would get you better results, it is not recommended to wear them for longer than what the manufacturer states. For Luxx curves, this is a maximum of eight hours a day with the traditional waist trainer.
3. Give it enough time to 'break in'
If you've ever bought new shoes, you know that there's always a 'break in' period, even when you bought the right size in the first place. It takes some time wearing them for the rigid materials to loosen up a little.
It is quite similar to a waist trainer. Give it a few days of wearing it in order to really feel comfortable in it. During the first few days, the waist trainer is going to feel a bit stiff.
Time your waist training strategically, so that it doesn't coincide with your biggest meals. For example, if your biggest meal is breakfast and you have it at 8 am, then wait a few hours to wear your waist trainer.
Time your waist training so that it coincides with the smallest meals. This way, you will feel more comfortable wearing a waist trainer, as opposed to when you are full and the waist trainer feels super tight.
5. Combine waist training with other weight loss methods
For best results with your weight loss, combine waist training with other methods such as dieting and targeted core exercises.
Certain diets like intermittent fasting will also work really well with waist training. With intermittent fasting, your meals are timed far apart, which gives you time to wear a waist trainer without feeling full and uncomfortable.
Summary - Are XXS Waist Trainers A Good Choice?
XXS waist trainers are great tools to slim and shape your waist. They are often designed for people with a waist size of 25 inches or under (though you want to check with the manufacturer for exact sizing).
Apart from your waist measurement, your torso length is a very crucial measurement. Your waist trainer should always be shorter than your torso length. Note that your torso length is different during different positions (e.g. standing vs seated).
People often have the misconception that waist training doesn't do much for someone who is already small. However, waist training can benefit people of all sizes.
Waist trainers do more than just slimming the waist. They also shape your curves, so that you have a more exaggerated waist to hip ratio making it look very attractive when you wear bodysuit or lingerie. You can't achieve this with just exercise because exercise can't spot-reduce or shape the fat around your waist.
They can also help improve your posture as it physically encourages you to keep your back straight. For postpartum issues, it can help with diastasis recti.
You may need a different waist trainer depending on which issue you are trying to alleviate. If you would like to know more about which waist trainer is best for your goals, take this interactive quiz to find out!