If you've been into waist training before, you know that waist trainers can sometimes feel more uncomfortable than shapewear when you're doing more physically intense stuff around the house.
Fortunately, there's a simpler garment that still gives you the benefits of waist training that you can also wear safely during your workouts while you work towards your weight loss and slimming goals, even if you are postpartum. A workout waist trainer does just that—keeps your waist cinched while still being flexible enough to breathe, whatever your body shape.
What is a Workout Waist Trainer?
Regular waist trainers are designed to be quite stiff and rigid, this is why they are effective at cinching your waist, although different from waist cinchers. However, they are only designed to be worn around the house or at the office when you are mostly sedentary or at rest.
The moment you decide to do something more physically intense, a normal waist trainer or waist trainer corset can feel very constrictive and make it harder to breathe. It will also physically constrain you, so that you're not getting a full range of movement.
A workout waist trainer meets you halfway. It still cinches your waist as a body shaper, but allows enough flexibility to move relatively comfortably and doesn't restrict your breathing. In fact, it can even help you with better posture, and give you a better form when performing squats, deadlifts, etc.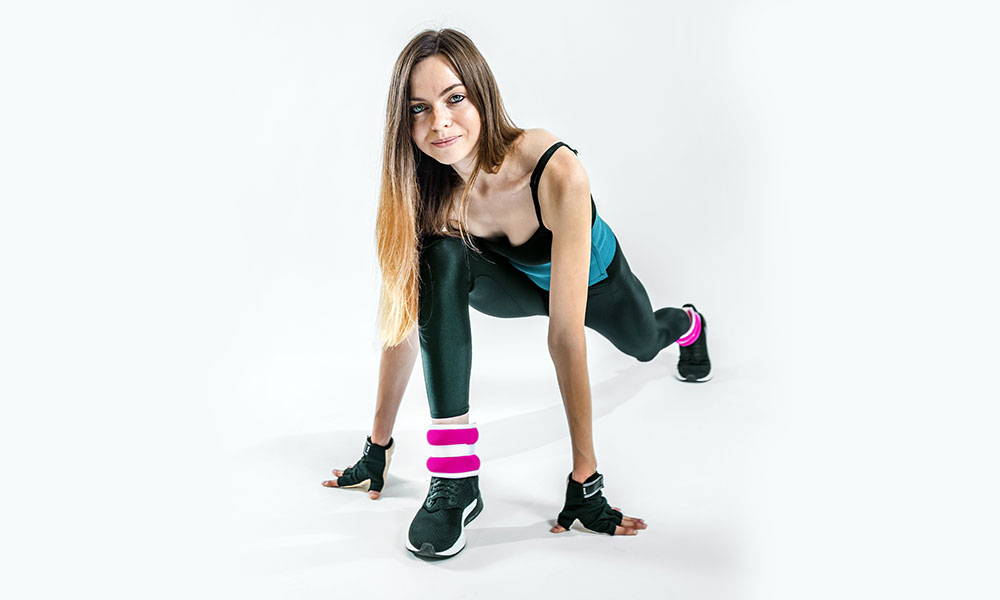 Workout Waist Trainer vs Faja - What's the difference?
Faja is the Spanish word for 'wrap' or 'girdle'. It is a popular garment throughout Latin America, having originated in Colombia. They are typically worn after major surgery or childbirth in order to reduce swelling and help the skin recover and tighten naturally.
As the hourglass shape is prized in these cultures, Fajas are also worn to accentuate the waist and bum.
Fajas or waist trainers usually have rows of 'eye' and 'hook' clasps at the front to fasten. They are rigid and stiff, in order to withstand the pressure from body fat.
They do require some effort to put on. Typically, brands design them to be worn for around 8 hours a day, while you're awake.
A workout waist trainer, on the other hand, is designed to be more flexible. It is not rigid, and has a simple design that is easy to put on when you're at a gym or in a hurry. They can have things like Velcro, which makes it easy to put on as well as adjustable straps, almost like a tank top for thermal activity.
Workout Waist Trainer vs Waist Trimmer - What's the difference?
A workout waist trainer is a waist trainer that is designed to be worn during intense workouts, like at a gym or during a run, for example. They hold in your waist like a waist trainer, but are not as rigid and constrictive. As mentioned, their designs are simpler and easier to put on when you're on the go so you can keep working on that hourglass figure.
A waist trimmer, on the other hand, is specifically designed for you to lose belly fat and have some tummy control. It is wrapped around your waist, and increases the temperature around that area, so that you sweat more. They may also have alternative functions like supporting your spine during heavy workouts or strength training.
What's The Best Workout Waist Trainer?
When you are picking out the best workout waist trainers, there are a couple of things to consider.
Is it easy to put on? Regular waist trainers can take a few minutes to put on because you need to fasten each eye and hook. However, when you are on the go or in a rush, you can't afford to spend ages putting on waist trainers.
So, pick a workout waist trainer or belt that has a simple fastening mechanism. Common ones include Velcro zippers.
During exercise, whether cardio or butt lifters, you will obviously be sweating a lot. So, you need to consider the type of material the workout waist trainer belt is made from. Can it tolerate sweat? If it's cheaply made or a latex waist trainer (latex-free is an option), the sweating may cause the material to degrade over time.
You want a material that is strong and rigid enough to hold in your waist, but also flexible and breathable enough to wick away moisture and sweat. Look for things like mesh fabric, neoprene, nylon. You also want materials that don't retain heat.
Considering these factors, your best option would be something like neoprene, nylon, or polyester. These are quite good at wicking away moisture or sweat, but also doesn't hold onto body heat.
A pet peeve of a lot of women who wear waist training corsets or regular waist trainers is when they dig into your back. This can be even more annoying when you're trying to concentrate on that squat challenge! So, go for a design that is soft, breathable or shorter at the back, so that it doesn't bunch up and dig into your body.
Waist trainers can be expensive, so you want to make sure that it's well worth your money. While you won't be wearing a workout waist trainer often, you still want it to be durable and get the best bang for your buck. Usually, a good price range would be between $40- $50.
Size range
When it comes to waist training, there is no one size fits all—literally. It is important to get a waist trainer that fits you, so that you are not tempted to overtighten and risk your health. Whether you're petite or plus size, waist training is for everyone. Take a look at a size chart for help or browse online (Luxx Curves, Ann Chery or Amazon).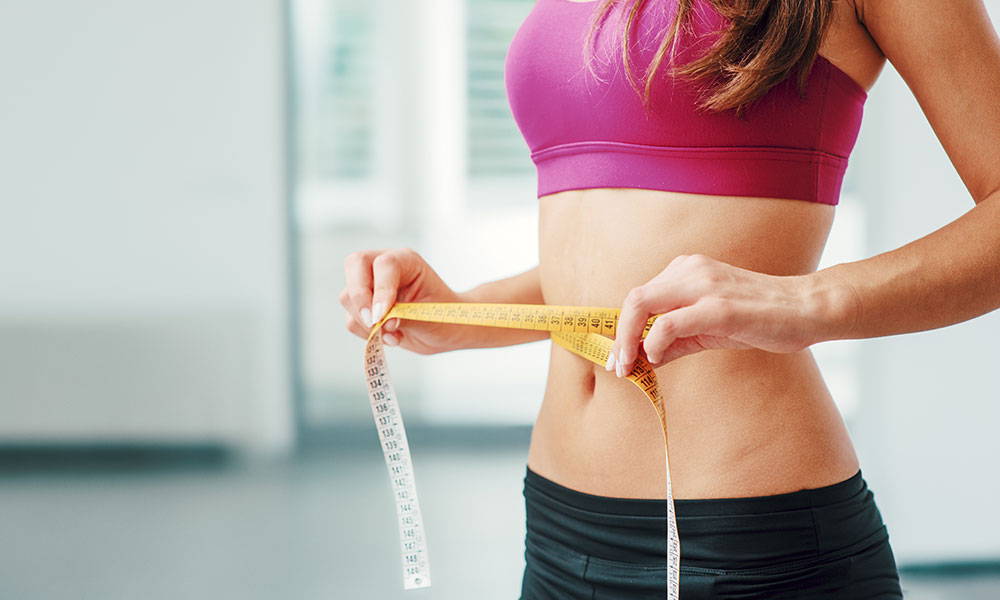 Luxx Curves Waist Trimmer Fitness Belt
If you would like a waist cinching belt or cincher trimmer that also helps you to lose fat around your core, the Luxx Curves Waist Trimmer Fitness Belt was made just for you. It is made from neoprene and nylon, which is great for moisture wicking during sweaty workout sessions.
It also has a breathable mesh at the back, helping the sweat and heat escape. The belt is sturdy enough to help you maintain proper form during critical movements like deadlifts, squats and lunges. By increasing the temperature around the midsection, it can help you sweat more, and hence burn a little more calories than usual.
It has double Velcro fastening, which means it is super easy and quick to put on at the gym or on the go. This also makes it safer to use, as it's quick to take off during an emergency.
It has a very wide range of sizes, ranging from 2XS all the way up to 3XL. This ranges from waist size of 20 inches to 45 inches. So, everyone is included in the size range!
Exercises You Can Do With A Waist Trimmer Belt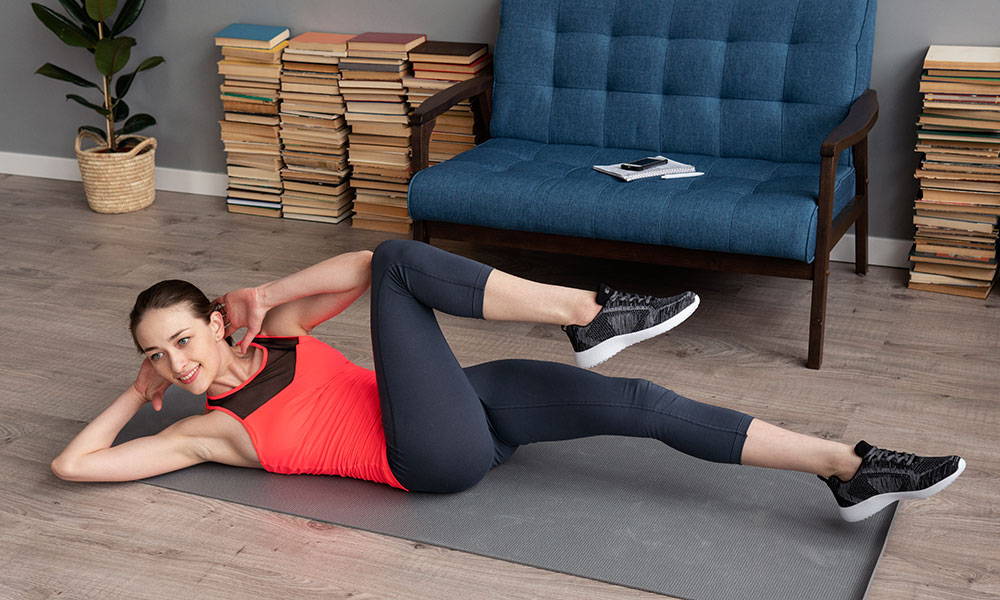 You can also wear it during high intensity cardio workouts. As the fabric is stretchier than in a regular waist trainer, it is much easier to breathe in it. This is especially important because during high intensity cardio workouts, as your breathing is a lot quicker. So, you don't want to restrict your breathing in any way.
Waist trimmer belts are especially great for strength training. A lot of these moves require good form, otherwise, you may injure your muscles. This is even more crucial if you are doing weightlifting.
You want your spine to be as straight as possible during these movements. However, we all know that it can be hard to maintain form and posture at all times. Sometimes, you might subconsciously hunch your shoulders or your back so you need back support to avoid back pain.
This is why wearing a waist trimmer belt or a slimming body shaper belt can help. It will physically encourage you to maintain a straight spine at all times.
Here are a few strength training exercises you can do with a waist trimmer belt:
Weighted squats

Weighted lunges

Deadlifts

Romanian deadlifts

Bulgarian splits squats (weighted)
Extra tips in using a waist trimmer belt
Never over-tighten your waist trimmer belt
Some people think that overtightening means you are getting more waistline cinching. But, this can be dangerous for internal organs, as it can restrict your breathing during very physical intense exercise. The gym should be the last place you should be restricting your breathing!
Take it off immediately during an emergency
If you feel sharp pains or difficulty breathing, immediately take off the waist trimmer belt. With the Luxx waist trimmer belt, you just have to take off the Velcro.
Take out the plastic bones at the back for more comfort
The plastic bones at the back of the waist trimmer belt are removable, so you can take them off for more flexibility if you need to.
Don't wear it in while you're sleeping
As with a regular waist trainer, you shouldn't wear the waist trimmer belt during your sleep. It is designed to be worn during the day when you're awake.
Workout Waist Trainers Summarized
Workout waist trainers are an amazing high quality must-have for fitness junkies, who are also looking to get a cinched waist and an hourglass body. They not only shape your waist, but they also help you maintain proper form during difficult strength training moves like deadlifts and squats.