You would've heard all about Kim K's new SKIMS shapewear line all over social media. These are the sleek nude-colored garments you've probably seen all over Instagram and the blogosphere that aim to tuck in every bulge and streamline your figure. These are almost always sold out quickly and have super long waiting lists.
What Are Kim Kardashian West's Skims Waist Trainers?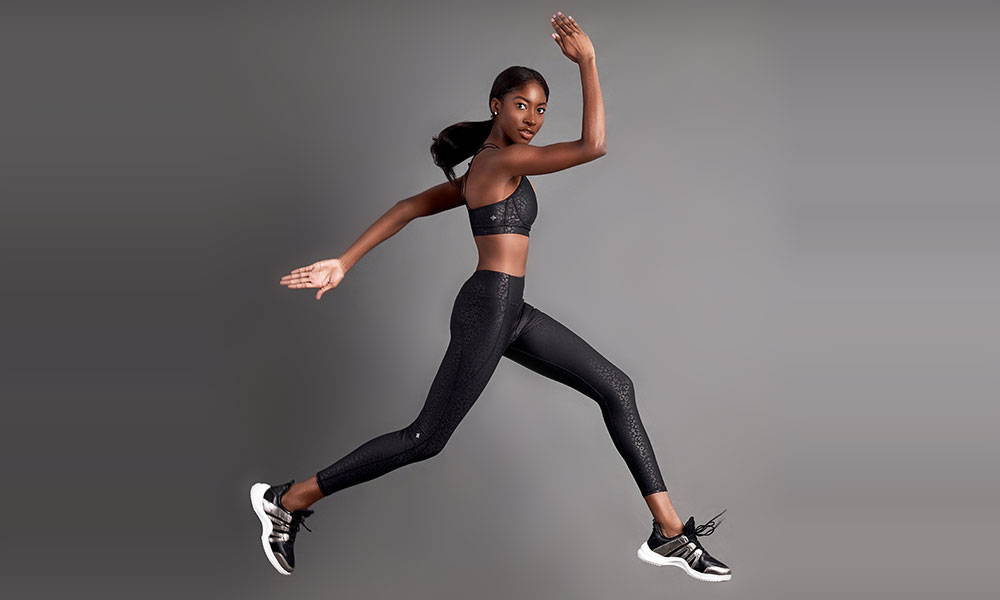 The SKIMS shapewear line consists of new products such as waist trainers, sculpting briefs, shorts and bodysuits. Waist trainers are garments that you can wear to gradually "train" your waist and sculpt it into a smoother contour.
Typically, waist trainers are not meant to be things you wear once just to conceal fatty bulges in your favorite dress. They are meant to be worn over weeks to semi-permanently shape the contour of your waist.
So,why is there so much buzz about SKIMS and how does it compare to other shapewear products out there, such as our Luxx waist trainers?
First Impressions On Kim Kardashian's SKIMS Shapewear
SKIMS, which first launched in 2019, sells a myriad of items including: shapewear, underwear (lingerie, thongs..), loungewear (robes, tank tops,etc), and as of recently—even face masks. They have recently launched some new pieces of shapewear as well.
Out of all her business ventures, including KKW Beauty, Kim Kardashian's shapewear line SKIMS on skims.com is probably the least surprising. The reality TV mogul is renowned for her natural curves and hourglass shape, so she'd be the ideal face for a shapewear line. Fans of her family, including Kylie Jenner would be into this as well.
In fact, the idea for a new shapewear line had been brewing in Kim's mind for at least a decade or so, according to her. The inspiration behind the line came from her frustration at not being able to find the perfect shapewear that fit her needs. So, earlier in her life, she would cut out pieces at home and sew her own DIY shapewear.
However, the brand's launch wasn't exactly smooth sailing either. In the summer of 2019, the original name of the line was supposed to be KIMONO, a play-on words of her own name.
There was instant backlash over her choice of name, because people claimed that it culturally appropriated the name kimono—traditional Japanese dresses. Though some even debated whether the 'controversy' was just a way of stirring up interest in her new business. Nonetheless, it worked!
The launch date of the collection had to be pushed back to September 2019 because of the controversy and it had to undergo an immediate name change. During this time, she announced that the name was changed to SKIMS, as she wanted a name that incorporated her own name.
So, this brings us to the question of originality. How different are her products compared to what's already out on the market? Does SKIMS bring anything new to the table?
Much of the hype around SKIMS seems to come from the sheer amount of products and choices available. SKIMS has shapewear that targets every part of the body.
For example, if you just want something slimming for the belly and upper thigh area, there's a product available. Or if you want something else that specifically boosts the bust or bum, there are separate bras and shorts available.
If you want backless or extremely low-cut designs, there are options available. SKIMS also comes in a multitude of nude colors that target a variety of skin tones—ranging from super pale to dark brown.
So, SKIMS is original in the sense that there are separate dedicated shapewear for each part of the body and many different cutout designs.
However, there's nothing technically groundbreaking about these garments. A lot of these already exist in the form of leggings, cycling shorts, bodysuits and high-waisted spanx briefs. In fact, many critics have pointed out that a lot of the SKIMS shapewear is just overpriced spanx.
While Kim has had a lot of success with her shapewear line, it has come with its fair share of controversies. Besides the KIMONO backlash, Kim also received backlash for allegedly copying a product idea for breast tape from a small business owner, Carolyn Sitt in California.
Carolyn had allegedly sent the product to Kim's sister Khloe before in a box that had 'patent pending' on it. So, she was surprised to see her product featured in SKIMS' line of products. SKIMS is famous for their body tape that boosts cleavage in low cut dresses.
Kim uploaded a picture of herself with her boobs taped up, which went viral on social media. She later claimed on the Ellen show that she came up with the handy hack.
Another more recent controversy surrounded SKIMS' new shapewear targeting pregnant women and new moms. Many people accused SKIMS of putting unnecessary pressure on expectant and new moms with weight loss to lose baby weight.
Some of the maternity shapewear includes compression shorts and bodysuits. Kim has defended the decision, claiming that she gets so many requests from expectant moms to expand her shapewear to include maternity shapewear.
Let's Be Brutally Honest - Is SKIMS A Viable Product?
This brings us to the most important question—does SKIMS actually work? How does it measure up to our own Luxx waist trainers? To keep it objective, we will look at many different factors that make a good waist trainer.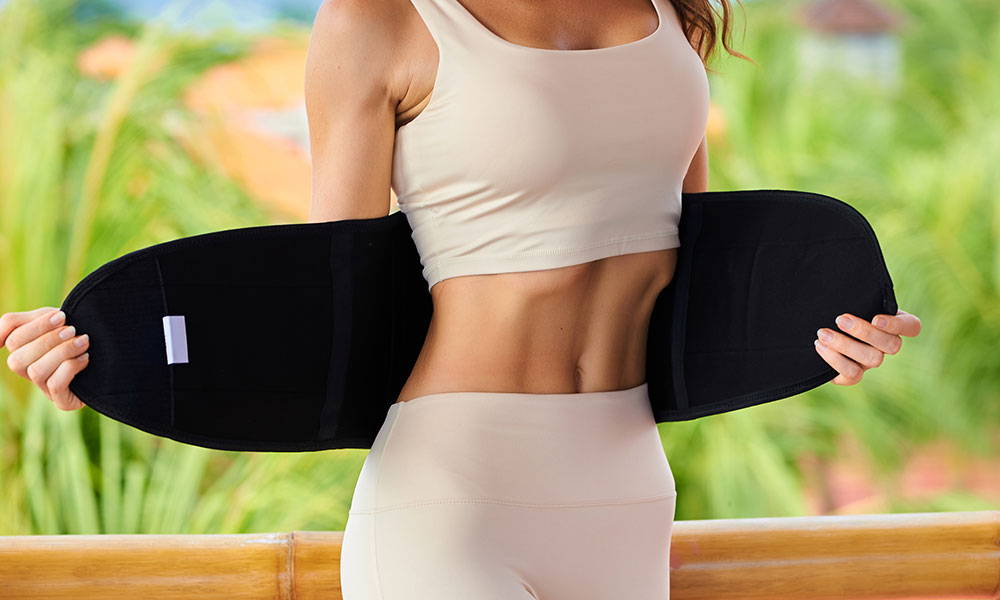 The most important aspect of a good waist trainer is the structure and design. If it isn't structurally sound, then it's not going to hold in all the belly fat.
Structure and rigidity
When looking at the structure of the SKIMS waist trainer, what stands out is the lack of the signature ribbing in a waist trainer. A waist trainer typically has thin, flexible metal bones that give a firm, but breathable structure to it. This strong, flexible structure helps to contain the pressure from the belly fat and hold it back.
In the SKIMS design, the 'bones' are quite flimsy and sparsely located, which can cause fat to bulge through the bones. Overall, the structure is on the weaker side, which is not ideal when trying to hold in fat firmly. A good waist trainer should have somewhat of a rigid (but breathable!) skeleton to give good results in the long run.
Design
Another issue with the SKIMS waist trainer is that it is the same width all around. This could cause discomfort and bunching in the back. A well-designed waist trainer would have a longer front and shorter back, so that it doesn't dig into your spine so much.
Hooks
There are three rows of hooks in the front of the SKIMS waist trainer. They are all quite thin and small, which is again not ideal for holding in a lot of pressure and for effective waist training.
Colors and Designs
The SKIMS waist trainers come in a variety of colors, ranging from black to beige, catering to different skin tones. The design is monochrome with invisible hooks. There are some designs that are power mesh waist trainers as well.
The price point for SKIMS waist trainers are in the $60-70 range, which is not too far off from other waist trainers. However, given that the SKIMS waist trainers are quite thin and flimsy, with smaller hooks, it is not the best investment in the long run.
As mentioned, the SKIMS waist trainers have somewhat of a flimsy 'skeleton' or structure, where the ribbing isn't very strong. Considering, the 'bones' or the ribs are what holds your curves in place and does most of the work, you can't afford them to be weak or flimsy.
The fabric material is also quite thin and stretchy, so combining this with a weak structure, the product won't be durable. The material will likely stretch over time. Not only do these weak materials make it less durable, but they also won't train your waist properly since it can't hold in fat effectively.
In addition to a weak structure, the hooks are also quite thin and small. The hooks are just as important as the 'bones, so you can't afford them to be weak either. These small hooks will likely break in a short span of time, and the waist trainer won't be effective.
As the material is quite thin and stretchy, the SKIMS waist trainer will feel comfy in the short run. However, in the long run, the thin stretchy fabric will mean that the waist training won't be as effective.
They will just hold in your curves while you're wearing it and then go back to normal once you take it off. You won't see any massive difference in your waistline in the long run.
The waist trainer sizes in SKIMS goes from sizes XXS to 4X, with 9 sizes in the range. So, this is a pretty wide range of sizes.
However, women with the same size will still have different proportions. Some will have a long torso, while others will have a shorter torso. SKIMS only has one torso length for each size, which doesn't take into account varying body proportions.
One great thing about the SKIMS waist trainers is that they come in a handy little case that makes it easy to carry it around on the go. The case is great for carrying makeup, cosmetics and other things.
Comparing Waist Trainers From Luxx With SKIMS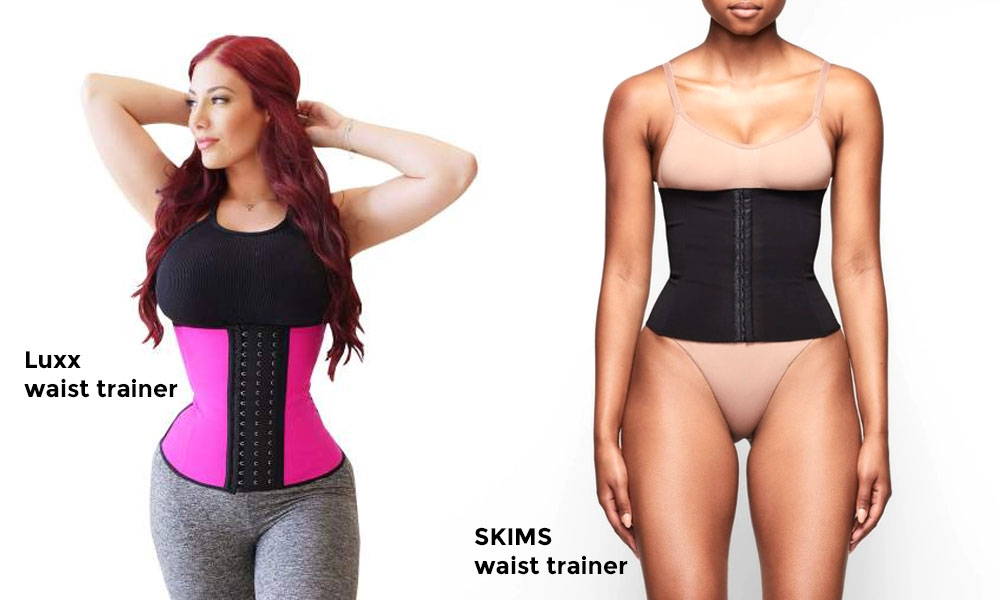 So, how does SKIMS waist trainers compare to Luxx curves? The most important difference between Luxx and SKIMS waist trainers is that Luxx ones are far more rigid and have a far stronger structure.
This is thanks to the flexible steel bones that run through the waist trainer, keeping your body fat contained firmly. So, this will be far more effective at training your waist than the SKIMS one, which is too flimsy to train the waist properly.
Even the fabric itself is far more rigid on the Luxx waist trainers. The fabric on the SKIMS trainer is quite thin, so there's a possibility of it tearing in the longrun.
The next biggest difference is that Luxx waist trainers cater to different torso proportions, unlike SKIMS. So, if you have a shorter torso, then you can choose one that is shorter. This way the trainer won't dig into your skin and feel uncomfortable.
Another significant difference is the hooks on the Luxx waist trainer. They are far more rigid, and larger in size than the ones on the SKIMS trainer. This is crucial, because the hooks are what holds your body together. If they fail, then your waist training won't be effective.
You will also notice that Luxx waist trainers are shorter at the back and longer at the front (where you need it the most). SKIMS waist trainers are the same length all around. The shorter back of the Luxx trainers will prevent your trainer from digging into your back and causing discomfort.
Lastly, it's worth noting that you can more bang for your buck with Luxx than with SKIMS. Despite being around the same price range (the SKIMS is actually more expensive), you are making a much better investment with Luxx than SKIMS.
With SKIMS, the fabric is quite thin and the hooks are small. So, if those fail, then that is almost $100 down the drain. You are going to be using the waist trainer for several weeks, so you want to make sure that it's a worthwhile investment.
Summary - Is SKIMS Worth It?
All in all, it depends on what your goal is with SKIMS. If your goal is to have a shapely waist under a bodycon dress for a night out, then SKIMS will do its job.But, once you take that waist trainer off, your waist is going to go back to normal.
If you want long term results, where your waist retains the shape even after you take off the waist trainer, then you are better off with a more rigid waist trainer that can firmly contain body fat. Ultimately, you want it to be a long term investment and a short term fix.