If the idea of waist training or corsets interests you for fitness and weight loss, you're onto a good thing. All you have to do is check out the hottest celebs successfully waist training or visit the Luxx Curves Waist Training Dolls community on Facebook to see just how effective waist training is. If you're already keen to get started, you're undoubtedly shopping around for the best fitness belt on the market. This is really the most exciting part, but it can be overwhelming too. There are so many options out there, and it's hard to settle on just one. 
Of course, there are numerous things you must consider and keep at the forefront of your mind when shopping for a fitness belt to use in the gym or for home workouts. And it's helpful to point out that using a workout fitness belt in conjunction with wearing a daily waist trainer can boost your results.  
One of the most important things to have in mind is that comfort should be paramount when choosing a fitness belt. If your fitness belt is uncomfortable, you will end up ditching it when you head to the gym, even if you think right now that you won't.  
Another important factor is size and fit. You need a fitness belt that fits you now, but it should also be adjustable to fit snugly even when you begin to lose weight, and your hourglass shape starts developing.
The fabric of the fitness belt should be stretchy and promote sweating but should also allow breathability where possible. Lastly, the material should be of a high quality so that your fitness belt withstands workouts and the washing that must happen in between workouts.
So, which fitness belt brand is right for you? Are they all made equal, or should you choose one with a bit more care?
If you consider the aforementioned information you will realize that it's best to investigate each type of fitness belt on the market to ensure you're choosing one that suits your body type and intentions.
One particular brand which is well advertised and may have caught your eye is the Jsculpt Fitness Belt.
Today, we'd like to provide you with a quick look at customer reviews of the product and show you how it stacks up against the Luxx Curves Waist Trimmer.  
Naturally, we're for Luxx Curves all the way, but it's best to make informed decisions, and you can only do that with clear comparisons. Without much further ado, we'd like to introduce you to the Jsculpt Fitness Belt.
Disclaimer: All information on the Jsculpt Fitness belt mentioned in this trainer review was retrieved from the Jsculpt website (https://jsculptfitness.com) and is considered correct when publishing this review.
Jsculpt Fitness Belt Description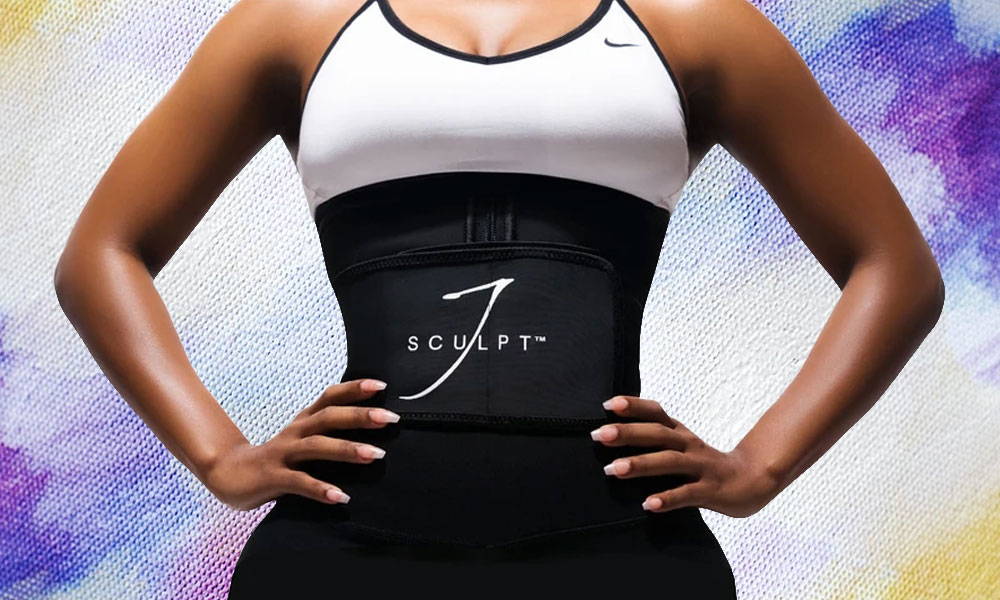 In terms of description, the Jsculpt Fitness Belt, similar to the Jsculpt waist trainer, is a 3-tier fitness waist trainer belt designed first and foremost for workouts. According to the manufacturers, you can wear it to provide an instant slimmer appearance at any time of the day, even while you're at the grocery store! The belt has no steel bones in the design, which allows for flexibility during workouts.  
To secure the fitness belt, there is a zipper positioned on the front. There's also a securing band of fabric that covers the lower portion of your midsection and two side panels that wrap firmly around you, secured with Velcro. The fitness belt seems to offer a snug fit for all intents and purposes, provided you select the correct size (as is the case with all fitness belts).
How Does it Stack up to the Luxx Curves Waist Trimmer?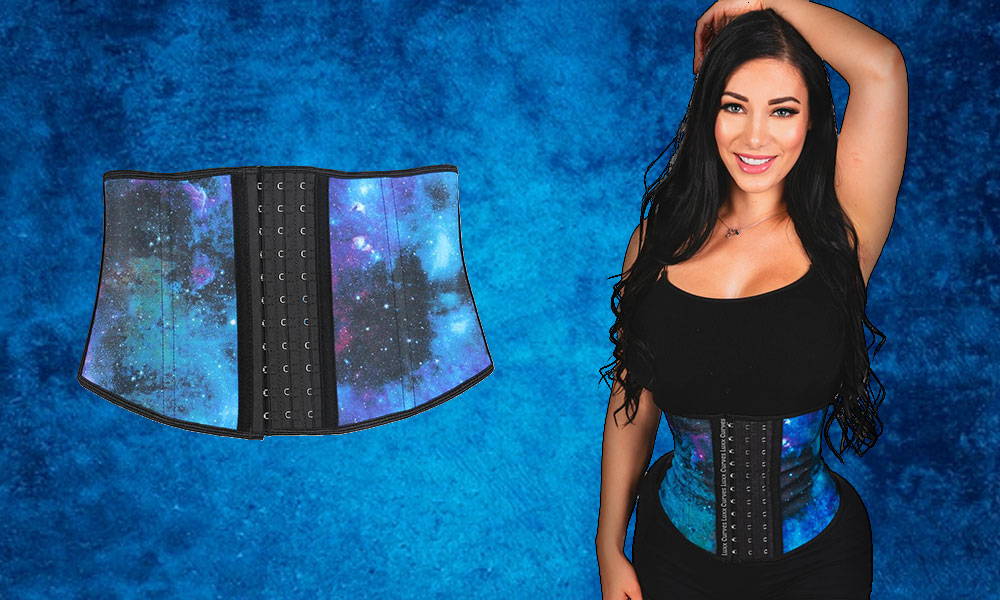 In comparison, the Luxx Curves Waist Trimmer is a waist cincher belt that acts as a compression binder and lumbar support. It's also designed for workouts. While the Luxx Curves Waist Trimmer can be worn during the day or provide a sleek appearance under clothing, the range offers a wide variety of more suitable and effective steel-boned waist trainer options. The waist trimmer does not have steel bones, allowing for more flexibility when exercising.
The Luxx Curves Waist Trimmer also has two side panels that wrap over your midsection and secure with velcro. There's a second layer of support in the form of stretchy bands that wrap snugly over your waist and also secure with velcro. Unlike a fixed position zipper (as seen on the Jsculpt Fitness Belt), the double velcro side panels are designed to ensure accurate sizing as the body changes size and shape.
Jsculpt Fitness Belt Composition
As already mentioned, the composition (fabrics used) of your chosen fitness belt / waist trainer belt is essential. So, what is the Jsculpt Fitness Belt made of? A quick look at their website (jsculptfitness.com) tells us that the fitness belt is composed of 100% latex on the outer layer and 100% cotton on the inner lining. These fabrics are designed to promote sweating as a sweat belt and aid in the absorption of sweat. The latex waist is also quite stretchy to allow snug fitting of the belt.
How Does it Stack up to the Luxx Curves Waist Trimmer?
The Luxx Curves Waist Trimmer comprises 80% stretchy neoprene, 20% nylon and natural latex with a mesh backing. These fabrics are used to promote sweating too, but the mesh backing allows for some breathability to enable you to work out harder and longer without entirely overheating.
The Function of the Jsculpt Fitness Belt
The function of a fitness belt's design is essential when considering which one to buy. You don't want to buy a steel-boned fitness belt for a gym workout, for instance, as you won't be able to bend quite as much as you need to, which leads us to examining what the designer of the Jsculpt Fitness Belt had in mind.  
According to the Jsculpt website (which is the only reliable source of the new products' advertised features and functions), the fitness belt is designed for reducing water weight and inches, high-intensity workouts, cardio workouts, and visual slimming.
One of the most notable upsides of investing in a Jsculpt Fitness Belt is that the range offers a reversible version that you can wear either way. That said, one must wonder the purpose behind this as surely one would wash their fitness belt between workouts. The only other reason that tends to come to mind is that these reversible fitness belts are colored/patterned on one side and plain colored on the reverse - which could mean that it's adjustable according to your mood and preferences on the day of your workout. If you're in an animal print mood, choose to wear it that way!
How Does it Stack up to the Luxx Curves Waist Trimmer?
In comparison, the Luxx Curves Waist Trimmer is a cinching belt explicitly designed for gym use. A lot of time and research went into its design, and it's practical to use in all fitness activities, especially the likes of squats, working with weights, and doing deadlifts.
This is because the waist trimmer belt provides extreme lumbar support (thus reducing the risk of injury and ensuring correct form), promotes sweating, increases the rate of fat burning, and helps to (over time) develop a sexy hourglass figure.
Jsculpt Fitness Belt Size Guide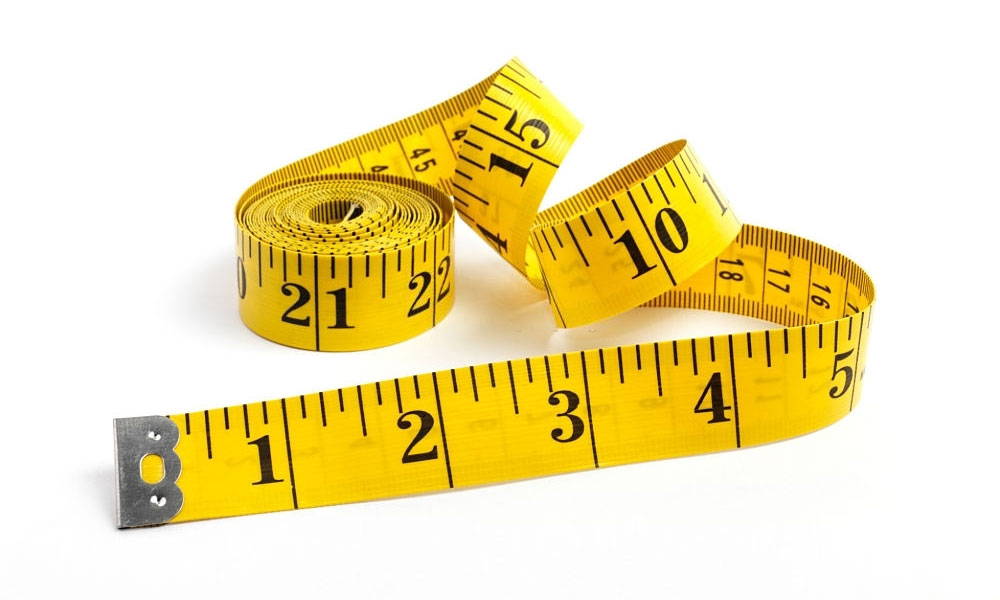 Size is one of the more critical aspects of choosing a waist trainer or fitness belt. You certainly shouldn't order a trainer or belt that is too small for you or too big for that matter. It's essential to measure yourself and consult the brand's size chart, which brings us to the size chart provided by Jsculpt.
If you look at the Jsculpt Fitness Guide size chart, you will see that the brand caters to various sizes. The size chart ranges from XS (26 ¼ inches) to 5XL (43 inches). A sneak peek of the size guide is below.
| | |
| --- | --- |
| Size References | Waist Measurements |
| | |
| | |
| | |
| | |
| | |
| | |
| | |
| | |
| | |
How Does it Stack up to the Luxx Curves Waist Trimmer?
When compared to the Luxx Curves Waist Trimmer, you will see that the Jsculpt Fitness Belt has a little less leeway in terms of sizing. For starters, the fitness belt has a fixed position zipper to secure it, and it's not clear if that can be adjusted as your body changes size and shape. You may wonder if this inner section will merely become baggier as you slim down just as we did.
Secondly, the largest size of the Jsculpt Fitness Belt goes up to 43 inches, which is a little smaller than the Luxx Curves largest size. The Luxx Curves Waist Trimmer ranges from 2XS (20-22 inches) to 3XL (40-45 inches). Here's a look at the Luxx Curves Waist Trimmer size chart.
| | |
| --- | --- |
| Size References | Waist Measurements |
| | |
| | |
| | |
| | |
| | |
| | |
| | |
| | |
Where Can You Buy the Jsculpt Fitness Belt
Buying the Jsculpt Fitness belt can be a little tricky, especially if you do all of your shopping on Amazon. The belt isn't available on Amazon but is available on the Jsculpt website for direct purchase.
On the flip side, you can buy Luxx Curves products on the Luxx Curves website, Amazon, and Ubuy. You will also find regular sales offered on the waist trimmer and waist trainers on the Luxx Curves website.
After making a brief comparison, we can conclude that the Luxx Curves Waist Trimmer is a little more breathable than the Jsculpt Fitness Belt. The Luxx Curves product also offers better sizing options and is designed to be more adjustable as your body changes, which is an area that the Jsculpt Fitness Belt doesn't shine in.  
Ready to start waist training at home and the gym? Get yourself a Luxx Curves Waist Trimmer today!