What if looking thinner for your next date, job interview, or night out with the girls doesn't have to involve sucking your stomach in for hours on end? There's absolutely no need to spend your time awkwardly trying to hide yourself behind the table, the menu, or someone else in the room. Looking thinner doesn't have to be a dramatic event! In fact, you can get a slimmer and trimmer appearance with a few simple fashion hacks! It's as easy as knowing a few basic "how to dress" tips! Styling is important but stylists aren't necessary as we're going to share these outfit ideas with you.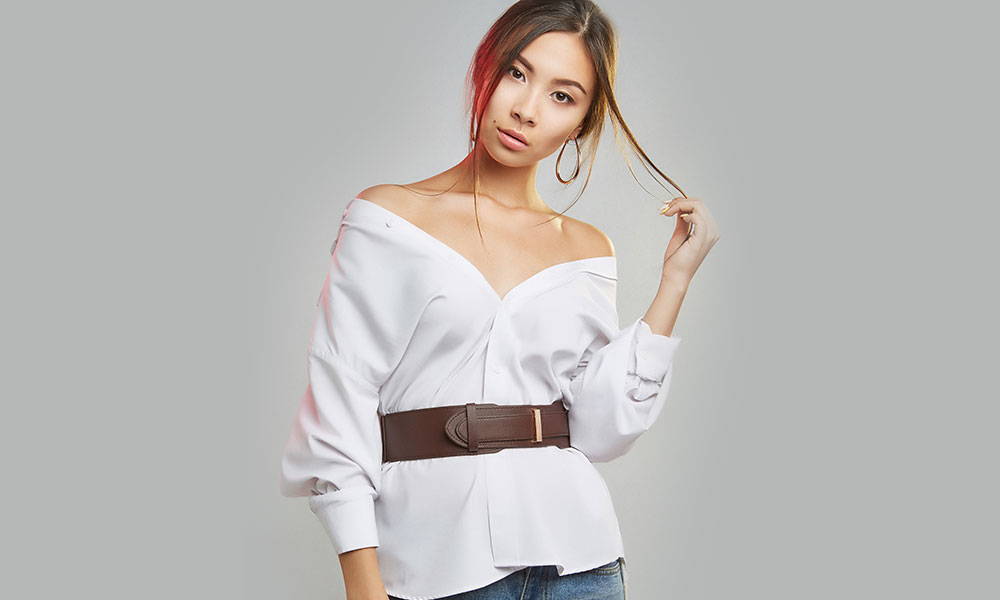 Too many women underestimate a belt's power. No, despite popular belief, a belt is not just designed to hold up your trousers! Belts can be used to accentuate the thinnest part of your natural waist - you just have to position the belt in the perfect spot. To do this, find the narrowest part of your midsection and position your belt right there. A wide belt usually creates the perfect hourglass illusion, so capitalize on that.
Hack #2: Repeat This: Size Matters!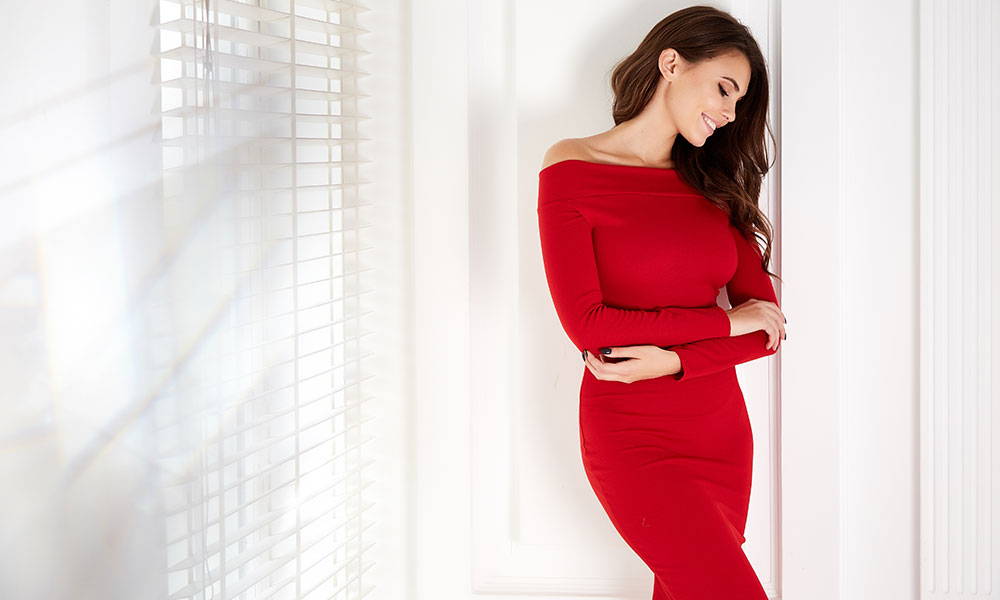 If you're out there buying baggy or slightly oversized clothing because you're trying to disguise lumps and bulges, trust this: you are only making it worse! Baggy clothing can end up looking bulky - in the end, people may believe you are a lot wider than you really are.
By taking the time to choose clothing that fits you just right (not too loose and not too tight), you will look slimmer and leaner than if you're adding baggy layer upon baggy layer. Also, don't be tempted to buy clothing that's too tight. It only accentuates any bulges and makes you look awkward. And let's be honest, you don't need that kind of attention!
Hack #4: Less is More (When it Comes to Prints)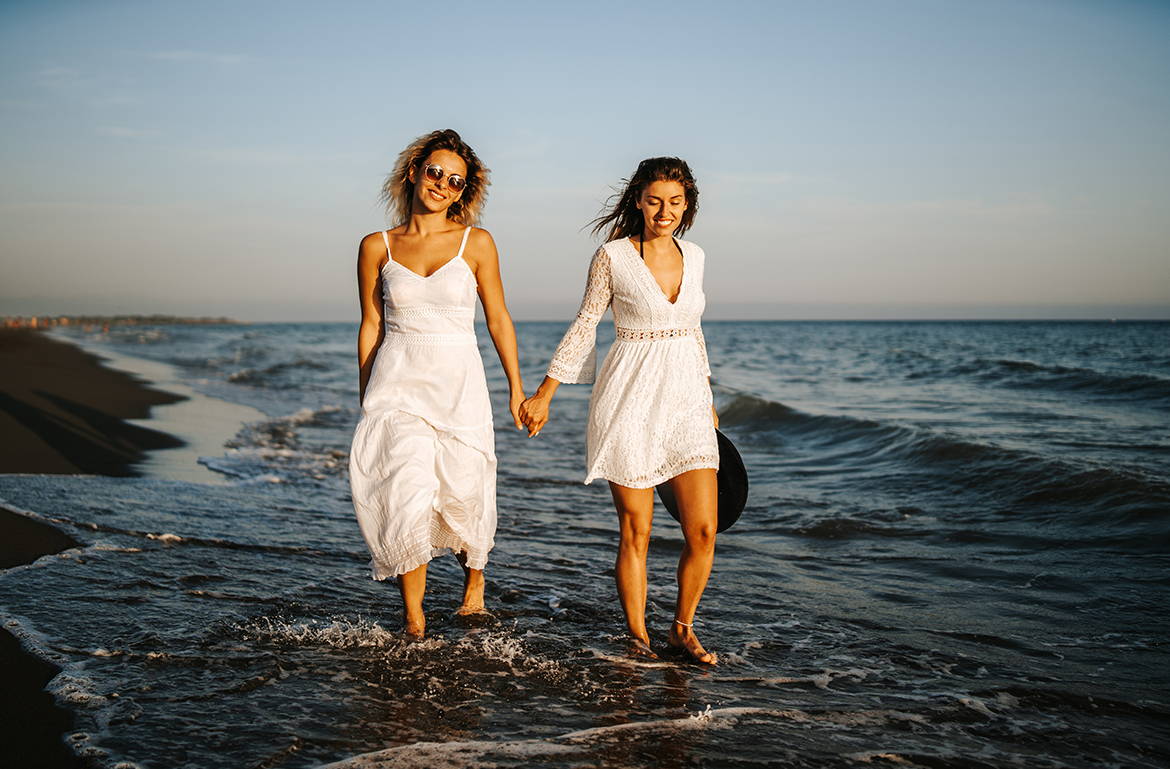 If you're the type of girl that's drawn to a zany, bold, and exciting print, step away from that clothing item immediately! If your wardrobe is jam-packed with bold patterns and prints, burn it all! Bold patterns have their place, like on your wallpaper at home! Whatever you do, do not wear clothing that features any bold print, or you'll be sealing your own "she looks fat in that" fate!
Bold prints are attention mongers, and they also make you look bigger than you are. You don't have to wear boring clothes but opt for dainty prints or no prints at all. Seriously, don't even risk it - nobody can pull off looking ultra-slim in a bold print (even if they think they can).
Hack #3: Make BFFs With a Waist Trainer
If a waist trainer isn't your best friend yet, you're missing out! Waist trainers have a way of tucking in the bulges, smoothing out the midsection, and creating the hourglass appearance that girls dream of! Millions of girls out there slip into their waist trainers before heading to work, going on a date, meeting up with friends - there's no reason why you shouldn't too. Once you start wearing a waist trainer out and about, expect a few envious looks from other girls. In addition to that, you will be getting a few extra hours of waist training which is always a bonus.  
Of course, you don't want to be walking around robotically or unable to pick up a dropped napkin. You want to appear natural and comfortable while looking ultra-slim - so choose a waist trainer that's flexible and durable such as the Luxx Curves Traditional Waist Trainer. You can wear this waist trainer at home, at work, and while out and about. As such, maneuverability and comfort were top priorities for the designers. Score!
Hack #5: Be Brave - Wear Shapewear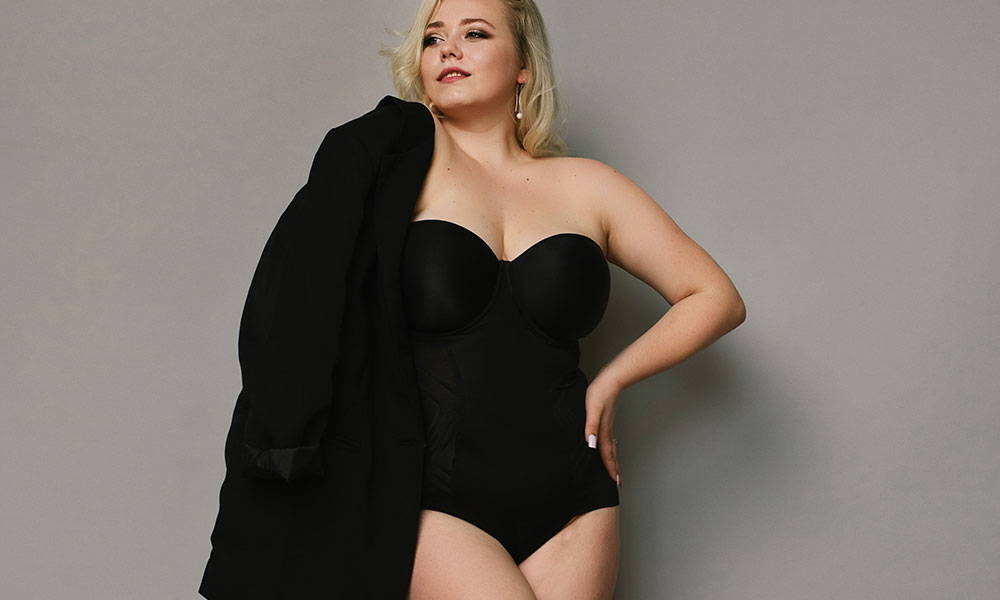 If you've never worn shapewear before, you may not know the true magic of it! Shapewear is the best kind of undies to wear, well, anywhere! Slip into it and watch as a smooth, sleek, and streamlined silhouette is instantly delivered. If you've never worn shapewear before, don't be overwhelmed by the idea. The Luxx Curves Body Glove is an excellent option because it's lightweight and comfortable while concealing lumps and bumps in an instant. And the best part is that nobody will even know that you're wearing it.
Hack #6: Ditch Your Flats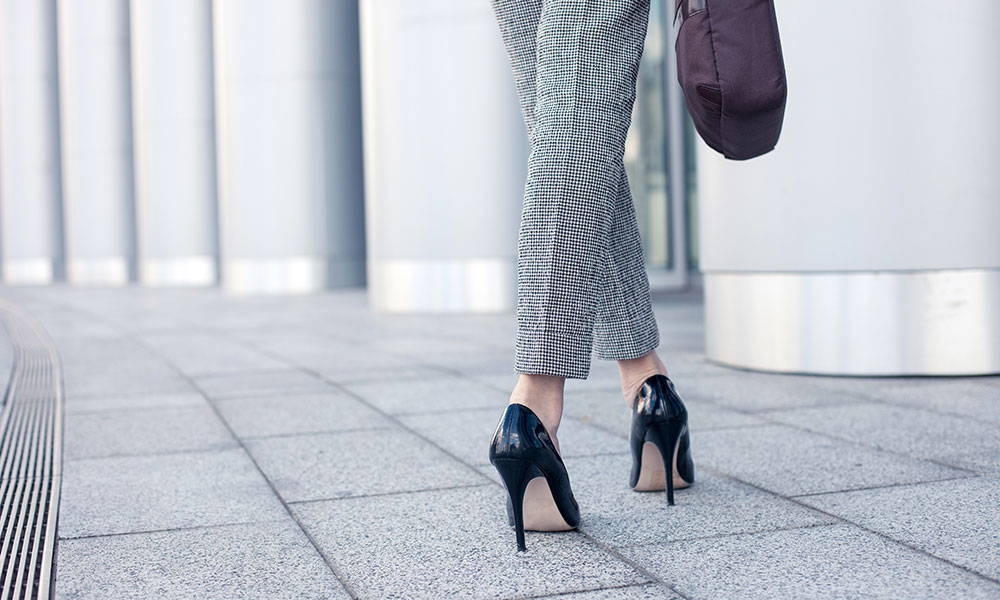 If you're the kind of girl that loves to strut her stuff in a pair of flat pumps, it's time to change your ways! Don't worry; you don't have to go for towering stilettos, but wearing a slight heel can elongate the leg and provide a much slimmer appearance. Wearing high heels has a particularly slimming effect if you are wearing skinny high-rise jeans or well-fitted trousers. Heels also push the posture into the correct position, which means your back will arch slightly, and your tummy will pull in. Find a pair of shoes with a slight block heel if you're generally not one to wear heels.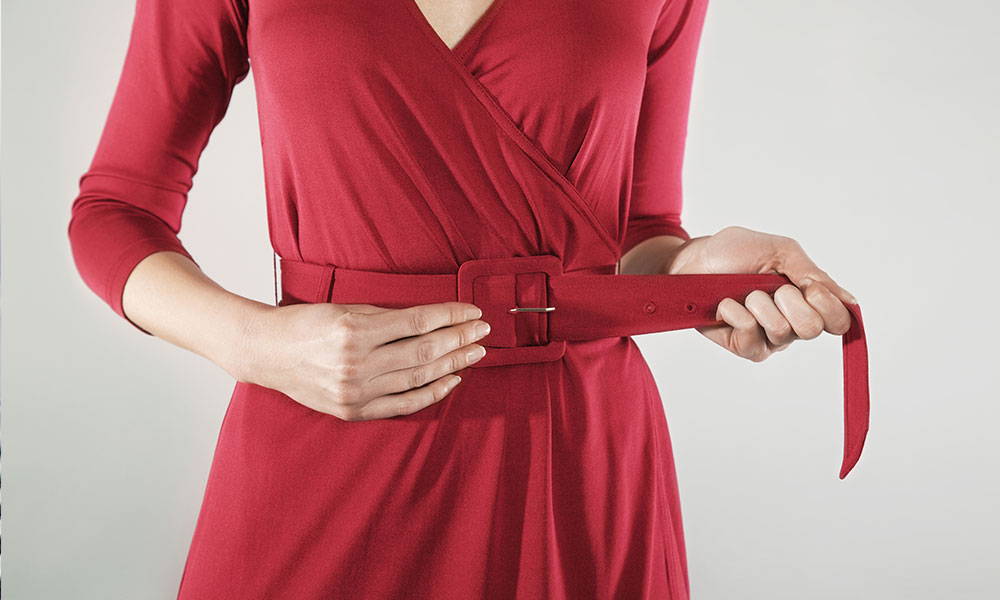 Are you looking for a new blouse or dress? Keep an eye open for wrap designs! Wrap tops and dresses do wonders for an hourglass appearance. Wearing a wrap top/dress will create the appearance of a flatter stomach and instantly enhance your curves. Now, of course, some girls aren't wrap top or dress girls, but that doesn't mean that you can't benefit from the "wrap" concept. You can try finding tops with a slight ruching on the one side, which gets the same effect as a wrap top/dress. Get wrapped or get ruched - both are good options!
Hack #8: Get High Waisted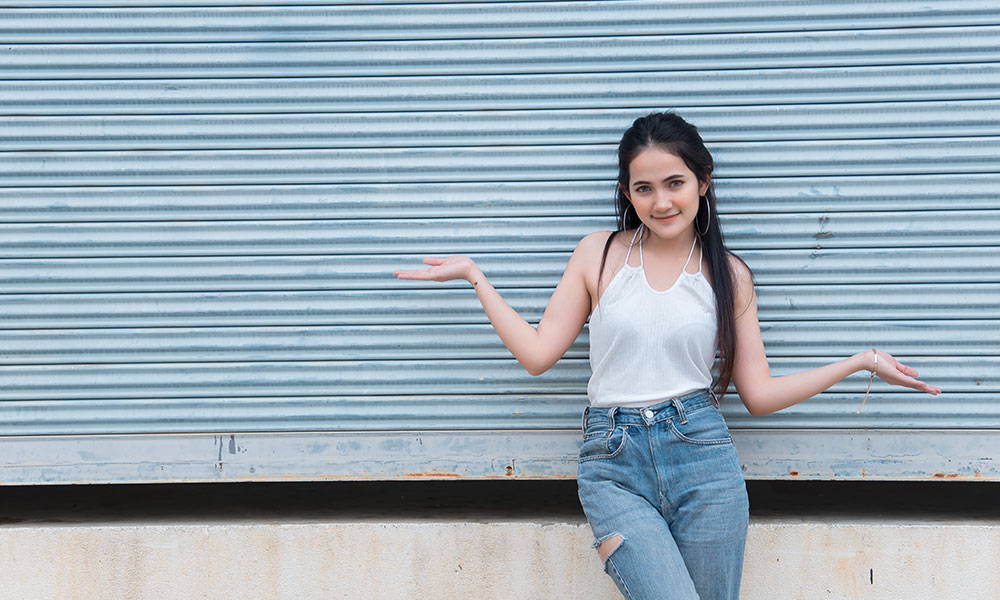 Low-rise used to be all the rage many years ago, but then women started to realize the beauty (and magic) of a pair of high-waisted jeans and dark wash jeans with a simple t-shirt! Not only will this draw the eye away from the stomach and to the narrowest part of your waist, but they also create the appearance of being taller and slimmer.
Of course, if you opt for high-waisted jeans to hide muffin tops, stay away from the flowy type or bootcut jeans. Opt for slim-fit jeans or skinny jeans that stop just above or on your ankle to make you look a few pounds thinner. There's an excellent reason for opting for well-fitted high-waisted jeans, and that's because flowing high-waisted jeans create the appearance of wide legs - and you don't need that!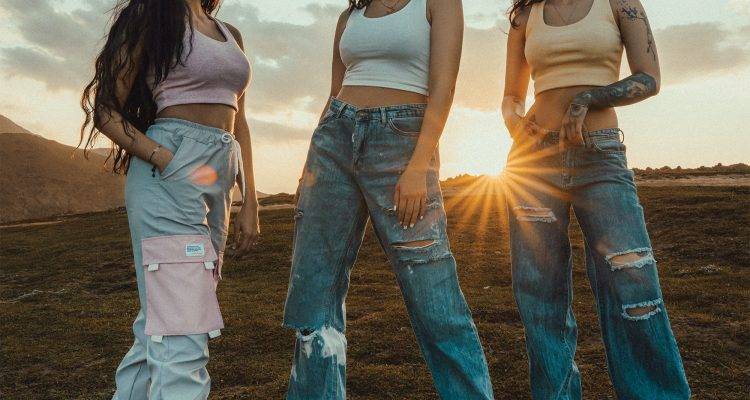 This one is fun to work with because it really can accentuate your best features. Many women believe that everything needs to match, and that's why you often see people wearing a tight shirt with a tight pair of jeans or a loose top with loose jeans. Instead of wearing a loose top with loose jeans, mismatch the fit by wearing either a pair of loose-fitted jeans with a fitted top or a loose top with a pair of fitted jeans. If you pair loose with loose, you stand the chance of looking bigger or chunkier than you are (and that's not fair, is it?!)
Hack #10: Embrace the Dark Side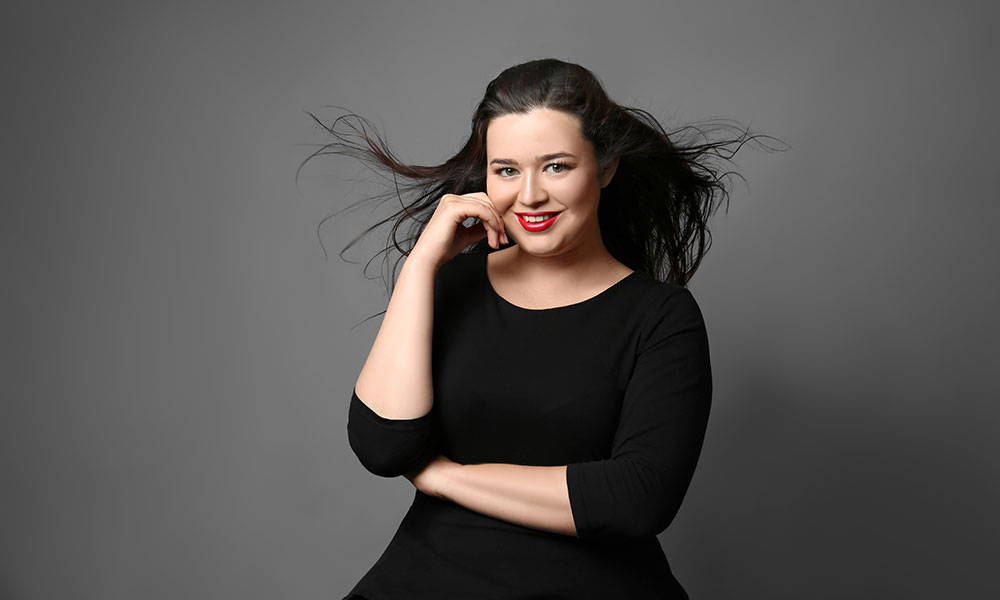 Don't worry - we're all about love and light. The only dark side we're talking about is that of your clothing colors. This one isn't too surprising because it's a fashion secret that's been out for decades! Wearing darker colors or monochrome is a surefire way to reduce the appearance of your overall size and look as if you have lost some extra pounds! This is because dark colors do a fantastic job of hiding visual interruptions. When wearing a dark color, the eye can travel from head to toe without any noticeable visual interruptions, which provides the other person with the impression that you are slimmer and smoother. Opt for black, navy blue, and deep purples (almost black) to get that lean and trim look.
Hack #11: Beware of Stripes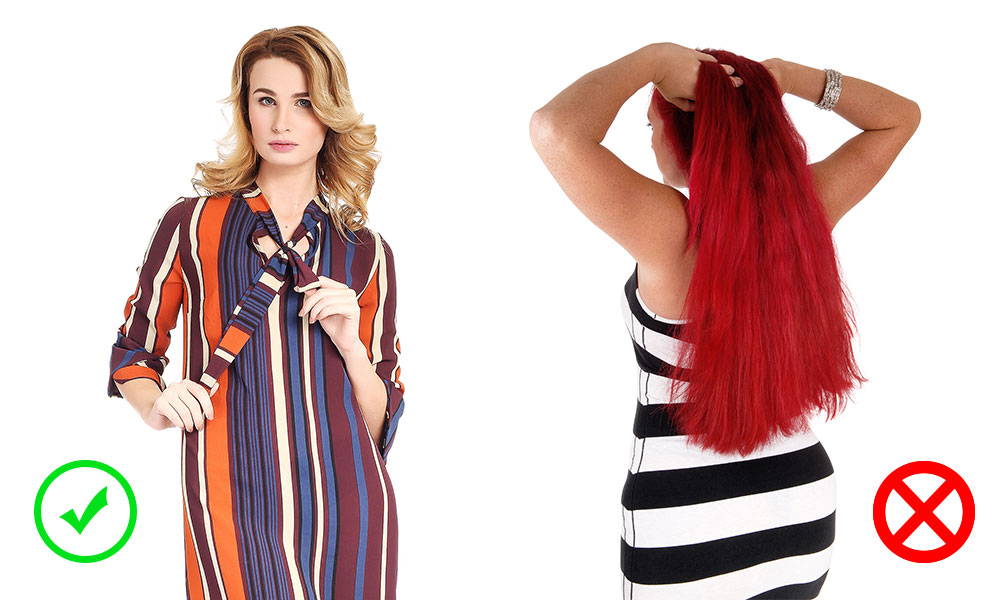 Stripes are alluring to the eye and draw attention, so it's natural to ooh and ahh over a striped top or dress. The only problem is that not all stripes are equal, which means some may do your figure no justice at all. If you're a stripes girl, be very careful of how you choose to wear them to avoid attention to problem areas. According to Psychology Today, wearing horizontal stripes can make you appear 6% wider than if you wore vertical stripes - now that's something to think about, isn't it?
Horizontal stripes are an absolute no-no unless you're trying to look wider. You can probably get away with vertical stripes. Also, if you're going to wear stripes, try to opt for thin white stripes on a primarily black garment. This will help create a slimmer appearance (thanks to dark colors) while drawing the eye up-down instead of side-to-side.
Hack #12: Wear Underbust Dresses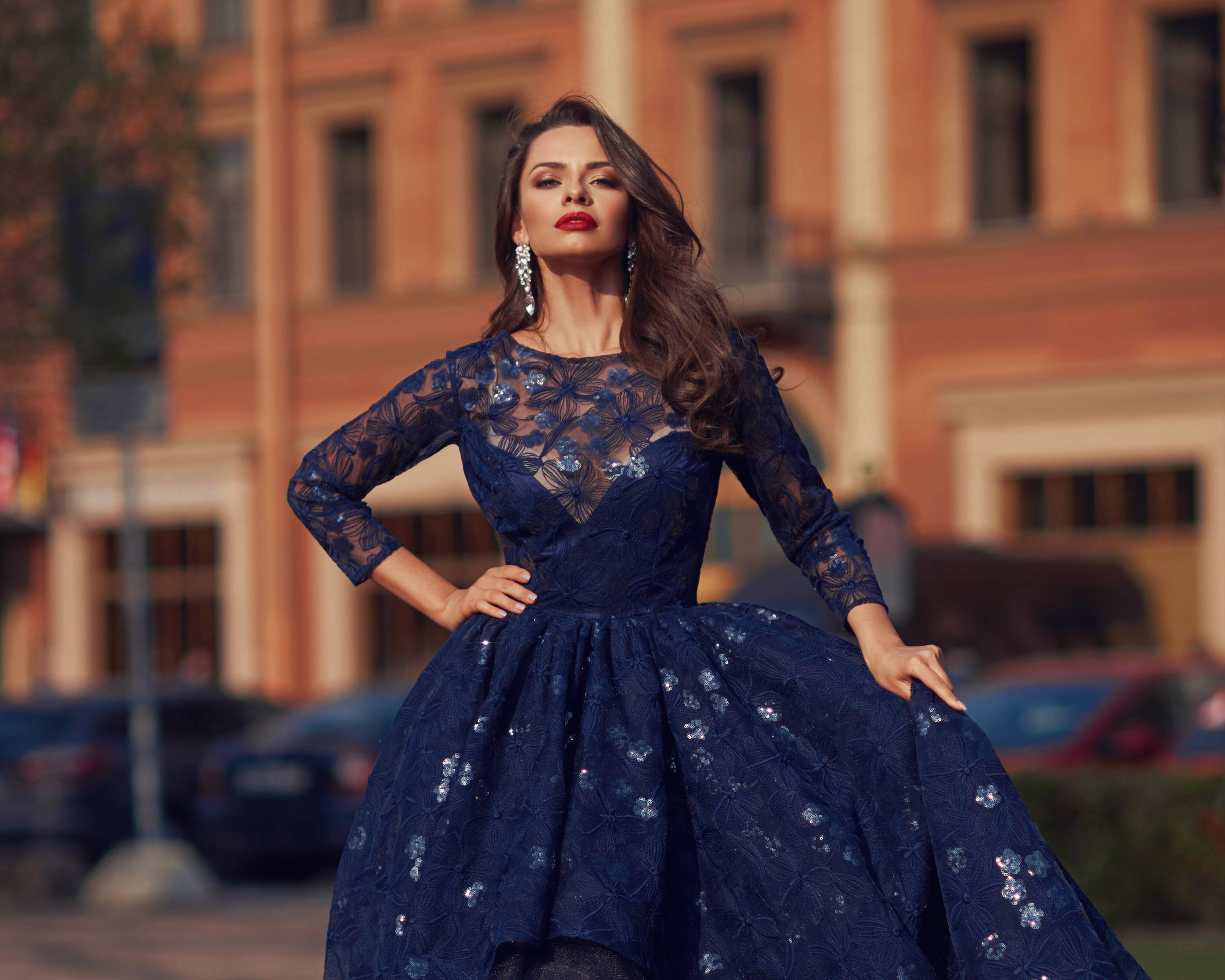 An underbust dress is a long and flowy dress fitted over the bust and tucks in just below. The design accentuates the bust area and the narrowest part of your midsection that falls just below. As the dress flows out from the emphasized area, it disguises any lumps and bulges that may make you feel uncomfortable. Underbust dresses (especially those that flow to ankle length) are the best!
Hack #13: Create Proportions with an Oversized Handbag
Handbags can do a lot more for you than just tote around your goodies, so try to buy bags with purpose in mind. If you're using a small pouch, you can expect to look wider than you are. Why? A handbag is one of those optical illusion accessories, and when used right, it can divert attention away from the part of your body shape you don't want to notice.
For instance, wearing a shoulder bag will draw the eye up to your upper body and away from wide hips. By opting for an oversized handbag, you can create the appearance of being smaller by comparison. Choose something quite sizey yet still stylish. Now that's a cool look-slimmer hack!
Hack #14: Show Those Knees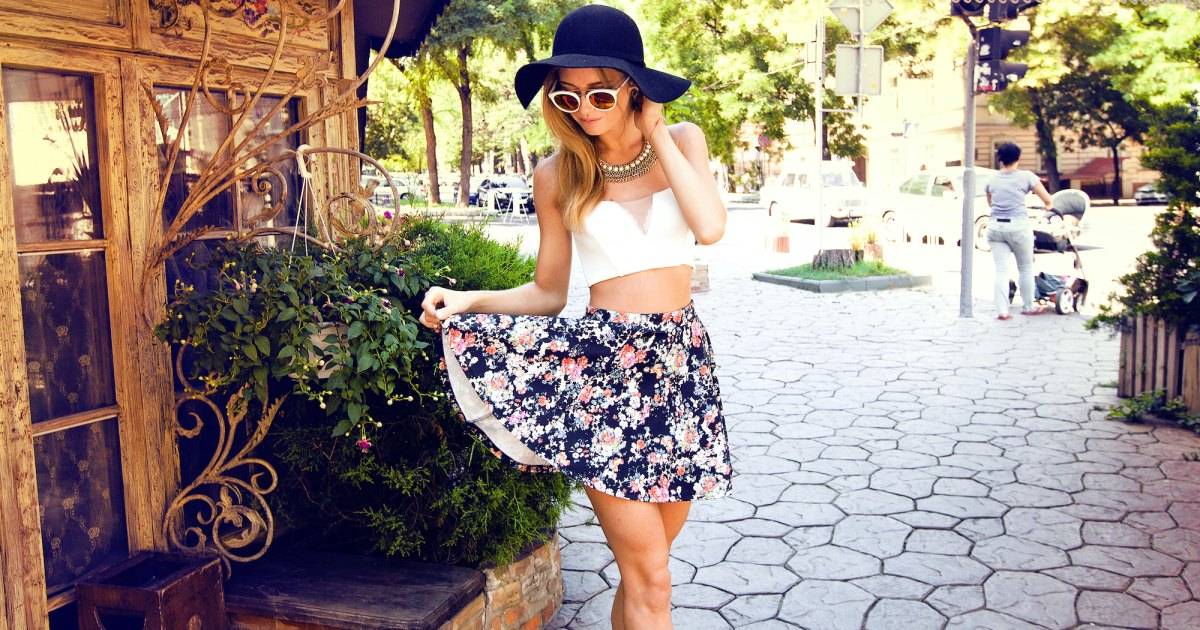 If you prefer a slightly shorter dress, get the hemline right to create a slimmer appearance. A dress that covers or touches your knees is a no-no! Do it right, or don't do it at all! Ensure that a short dress hemline is at least 1 inch above the knees. For an even slimmer-looking pair of legs, add some black leggings and mid-calf boots. Then strut your stuff confidently!
Hack #15: Give Optical Illusions a Try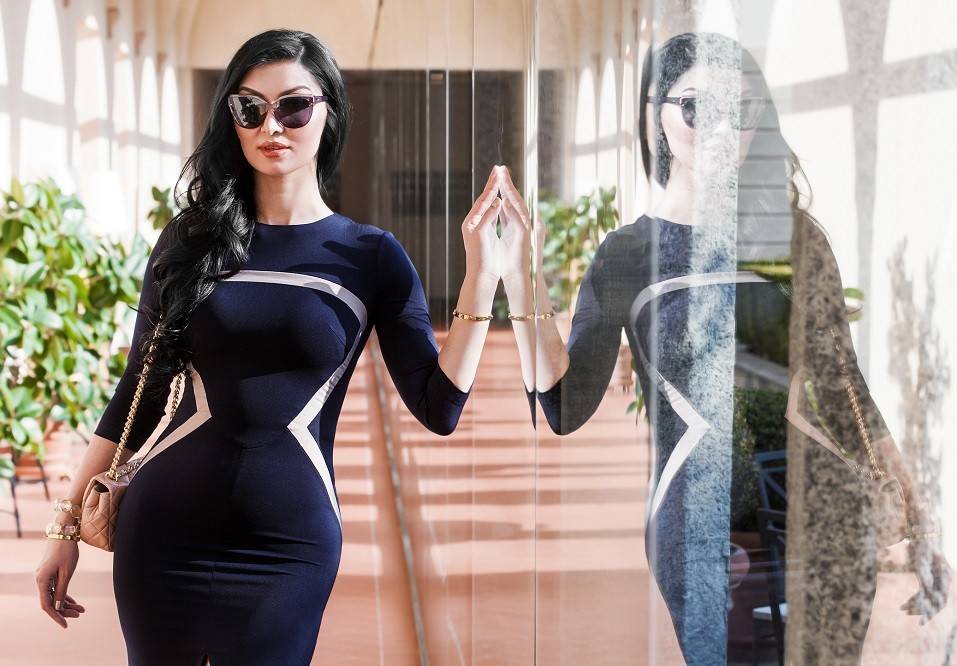 Rumor has it that illusion panels down the mid-section of a dress or top will accentuate the waistline and provide great shape to your hips. The result? That must-have hourglass figure, of course!
Hack #16: Use Asymmetrical Lines to Your Advantage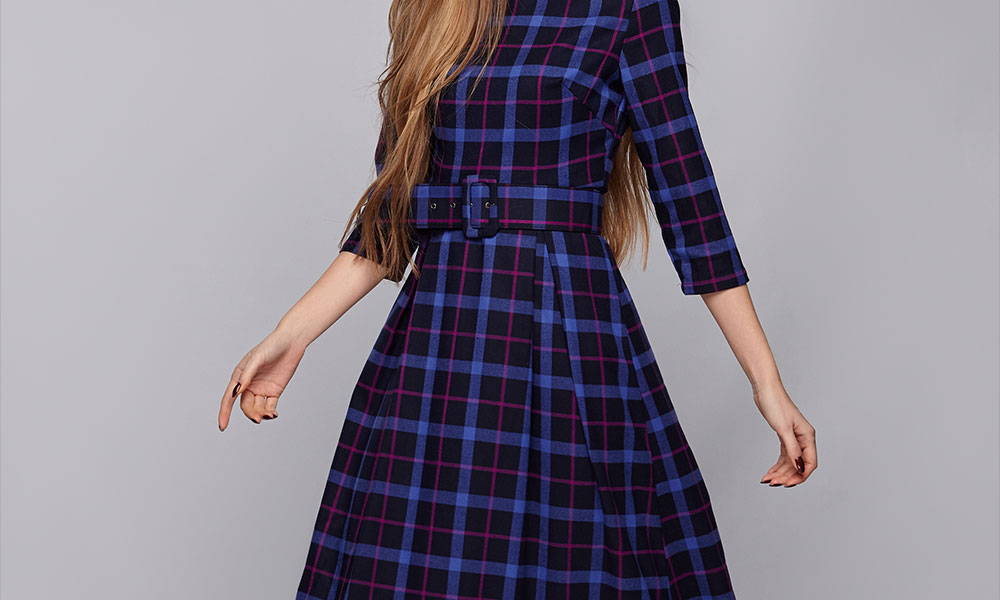 Wearing clothing with an asymmetrical line is an excellent idea if you're trying to disguise your stomach area. It all comes down to how the eye travels when someone looks at you. If you think about it, a diagonal stripe sends the eye traveling quite a distance from one point to another. By shortening the distance the eye has to travel, you can make your body appear slimmer and provide an elongated silhouette by using asymmetrical lines or vertical lines.
Hack #17: Focus on the Positives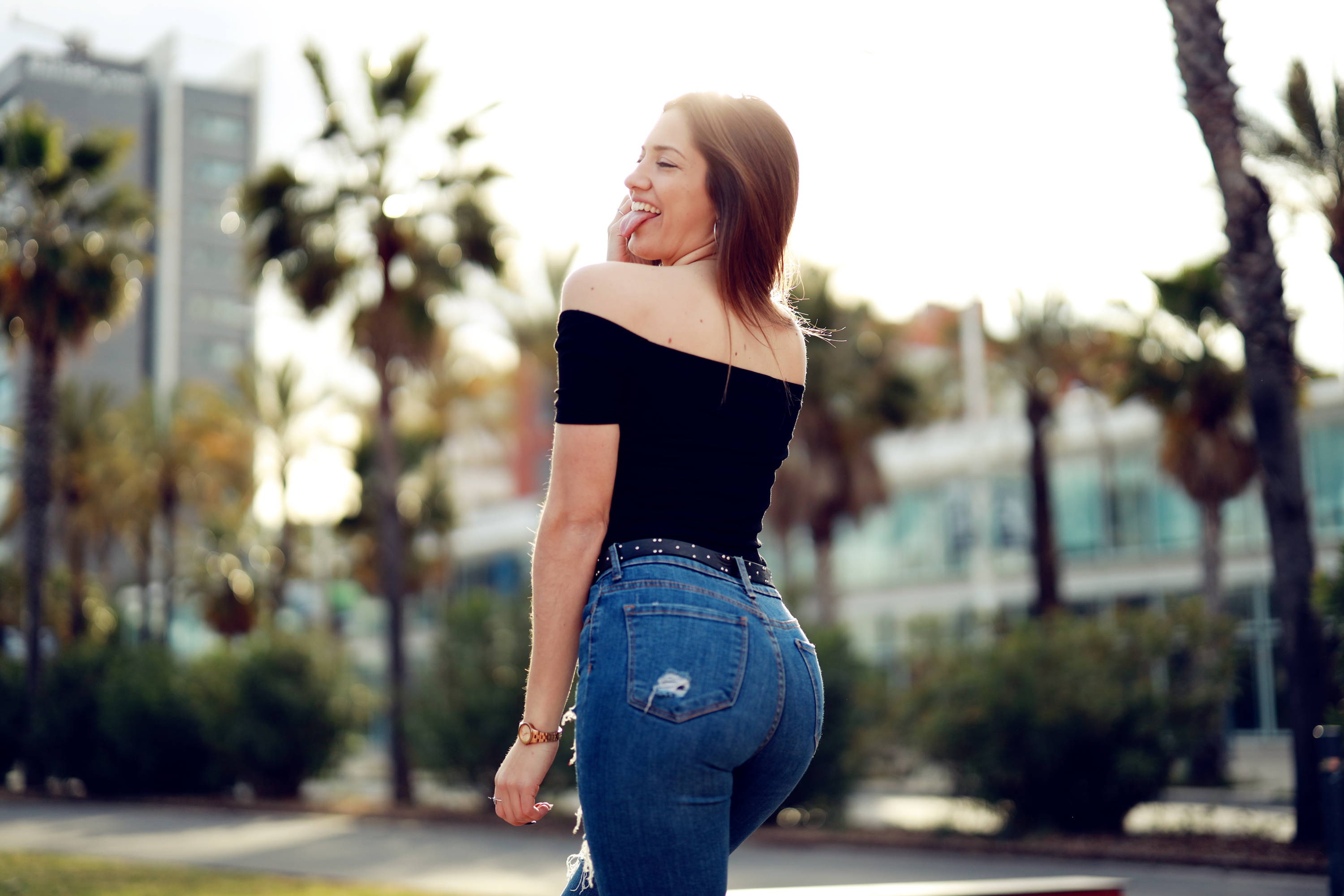 One of the biggest mistakes that women make when trying to look thinner is to go all out trying to cover up what they don't like about themselves. Of course, there's some success in doing this, but what if you're thinking about it all wrong? Here's a great hack to remember and it will serve you well for many years to come. Instead of trying to hide what you don't like, spend some time accentuating and drawing attention to parts of your body that you do like. For instance, if you have a nice bust, show it off with a v-neck top for a flattering neckline or long necklaces. If you have slim, shapely legs, sport a mini skirt, a-line skirt, pencil skirt or shorty-shorts (stay away from pleats). Make it all about showing off the positives, and people won't even notice the rest.
If you want to look thinner, you have to dress the part for your body type. Now you have 17 tried and tested fashion hacks to look slimmer the next time you head out - or every day if you wish! Try out each of the above hacks to find out which ones work best for you. You won't regret it!